Young Visionary Hatches Reading at Strand Bookstore feat. Ben Gibbard & Ron Currie, Jr.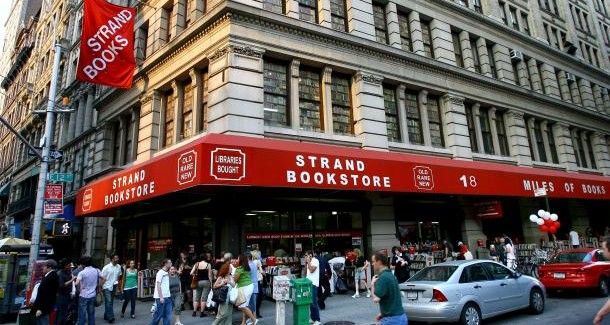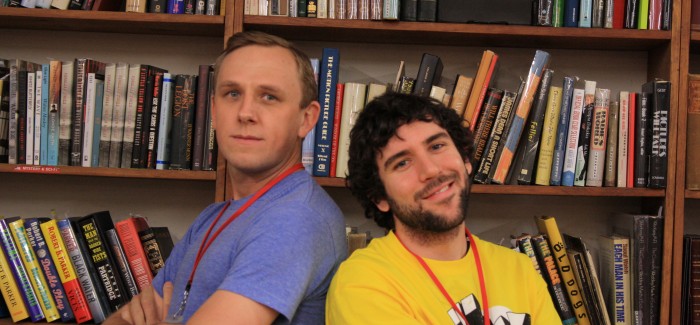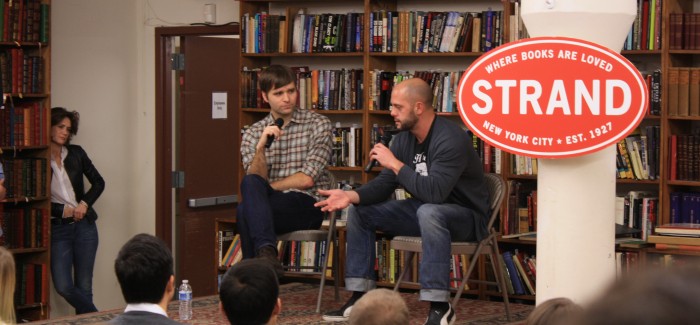 The Strand Bookstore may be home to many old, musty works of literature, but walk inside and you'll notice that it employs a whole lot of young people. Some of them are aspiring writers, while others simply relish the opportunity to work in one of New York City's most eminent bookstores. Often, young people mean fresh ideas. Andrew Boye, currently a manager on the main floor, has worked at the Strand for three years. Recently, Andrew hatched the idea to host events combining book readings (a mainstay at the Strand for years) with other artistic mediums.
Boye's idea came to fruition with last night's event, featuring Ron Currie, Jr, the author of such acclaimed novels as God is Dead and Everything Matters and musician Benjamin Gibbard of Death Cab for Cutie and The Postal Service. Flatiron Hot! News had a chance to talk to Andrew a few minutes before the event began. He and his colleague, Emily Simpson, along with event coordinator and author Jessica Strand, hope Wednesday's pioneering artistic venture will be the first in a series of events  showcasing the ties between authors and their creative kin in other mediums.
Click here to view part 1 of a Q&A with Benjamin Gibbard and Ron Currie, Jr.
Q: What initially attracted you to Ron's work?
Andrew: About a year and a half ago, after reading Ron's book Everything Matters, I decided to promote the book as much as possible. We get asked for recommendations all the time and it was an easy thing to do. It's a pretty attractive novel to the general public and I liked it a lot, so it was a pretty easy sell for me. It has appeal for everyone, whether you're a son, a daughter, a mother, a grandmother. While there are things in it that not everyone understands or likes, the overall message is something that is valuable to everyone in every day life.
Q: How did tonight's event come together?
Andrew: So basically, I let Ron know that we were selling his book and if he got more readers in New York City, he knows why. Ron excitedly responded and thought it sounded great. Then he came and met me and my friend, he signed books here and we went out for drinks. So that's how I met Ron and how I knew about him. Working here, I got the idea that I wanted to expand the Strand events. Not everybody's always going to be into books. Not everybody is always going to want to come and read the newest author because not everyone reads. So, of course, you want to try to reach out of your comfort zone a little bit and I think combining various art forms is one way to do that.
Q: How'd you get Ben Gibbard on board?
Andrew: I came up with the idea that I wanted to do a musician-author series. The idea would be: they like each other, there's a mutual respect for each other's work, there's synergy, and there's common thematic bridges. I told Ron that with his new book [Flimsy Little Plastic Miracles, to be released on February 7] coming out, I'd love to have him here to kick off the series. I told Ron that and asked if he knew anyone off the top of his head that he'd like to work with and he mentioned that he'd been shooting emails back and forth with Ben Gibbard. So Ron proposed the idea to Ben and he agreed, he was really enthusiastic.
Q: How will the Strand benefit from these kinds of events?
Emily: Andrew approached me a couple of months ago about his idea for a podcast and wanting to bring new types of media and events to our store to attract a different demographic than those who show up for our book readings. We wanted to create something that's entertaining and enlightens people about some interesting aspect of their favorite artists that they may not have already known about. Ron and Ben are fans of each other's work and it'll be fun to see how it turns out.
Q: How did you come up with the format for tonight's event?
Andrew: This being the inaugural event in the series, it was rather free form. I know I wanted to kind of show that there are connections and that there's a reason these two are paired together. When you look at Death Cab For Cutie and any of Ben's solo records that some of his themes or lyrics really relate to what Ron's talking about in his books, that being a search for truth, meaning, longing, loss, and baseball.
Q&A Pt. 1: Ben Gibbard of Death Cab For Cutie & Author Ron Currie, Jr. at the Strand
Stay tuned for Flatiron Hot's overall take on Ben Gibbard and Ron Currie, Jr. at Strand Book Store.