KoFoo Korean Deli: "Good Food, Good Prices, That's It"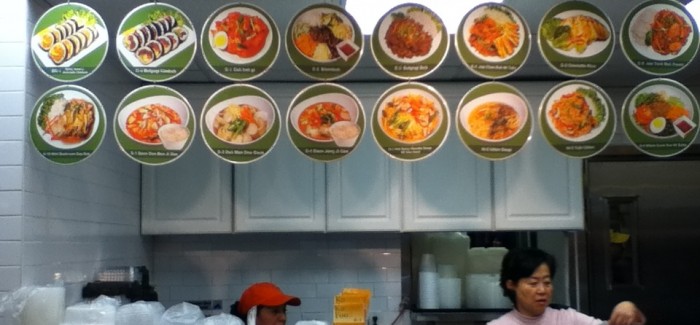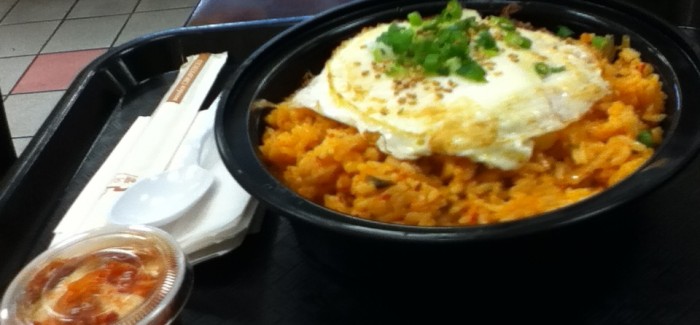 KoFoo, located at 67 West 23rd Street, right downstairs from the Flatiron Building and the New York City Seminar and Conference Center, is a Korean grocery that wears its heart on its sleeve. Its name an apt shortening of "Korean Food", the locale is popular for its ethnic delicacies such as Kimchi fried rice, Kimbob ("Korean Sushi") and typical breakfast foods. I sampled the aforementioned Kimchi fried rice and the Bu dae ji gae soup and found them well worth their cost, only $7.50 and $8.00, respectively.
The Kimchi fried rice stayed close to its roots; its only embellishment was a fried egg served atop the large platter of fried rice and fermented vegetables (primarily napa cabbage and onions). Its Kimchi was appropriately spicy and tangy, at no point burning the tongue. The Bu dae ji gae, also known as "army soup", combined hot dog, spam and pork with egg noodles and stewed vegetables including Kimchi and bok choy. This intricate platter was slightly less successful; its meats did not do much to change the taste of the stew and I walked away feeling as though I had consumed their generous side of white rice with a filling, tasty, and very spicy Kimchi soup.
KoFoo serves enormous and tasty Korean platters seven days a week with a clean and simple ambiance. When asked what the restaurant's hook was to lure customers through its doors, the manager humbly responded "Good food, good prices, that's it." We can vouch for that.