American Idol Star Phillip Phillips Plays JFK Airport Terminal 5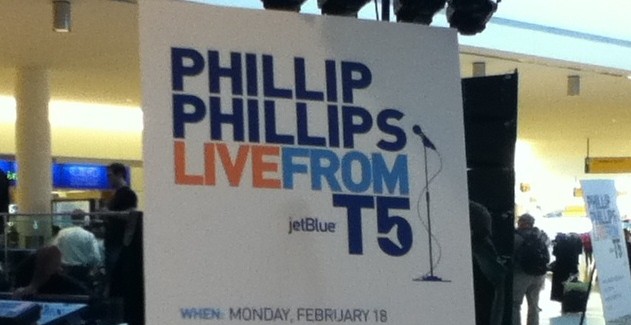 Most would not count waiting for plane flights as among life's most pleasant activities. However, flyers lucky enough to be present at New York JFK Airport's Terminal 5 (not to be confused with the concert venue) at 3:00 PM today were treated to a performance by none other than Phillip Phillips, last year's American Idol champion who emerged victorious with a record 132 million votes cast.
Along with mega hit "Home," Phillips played several songs from his debut album, The World From the Side of the Moon, released on November 19, 2012 (certified gold in January of 2013).
A pleasant blend of teenage heartthrob, adult contemporary singer-songwriter, and hipster, Phillips is as comfortable strumming his guitar as he is singing.
Mothers, daughters, and to a lesser extent, fathers and sons, all seemed to enjoy what the artist had to offer. Meanwhile, cameramen stood on an elevated platform, capturing videos that will likely get thousands of views on YouTube.
While far from revolutionary, Phillips' music effortlessly appeals to a wide swath of demographics one would not expect to fall for the same star. Phillips' stage presence likely goes some way towards explaining his success.
He performs with an effortless charisma, exuding emotion and intimacy even in the least intimate of places: arenas, large venues and, in this case, an airport terminal.