"Drink Another Bottle" with Indie Rock Duo Pretty in Blue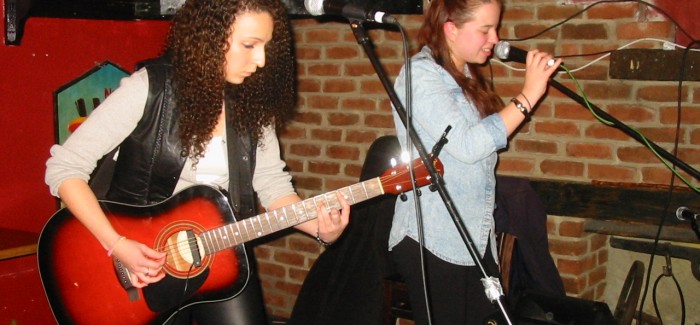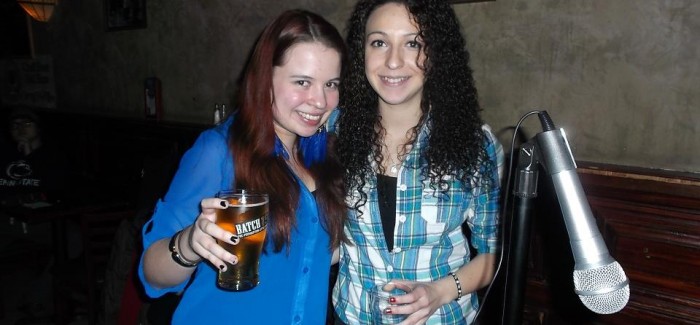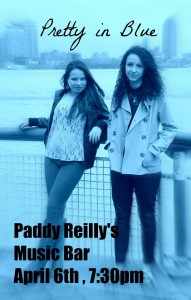 A music critic walks by an Irish pub called Paddy Reilly's Music Bar on Second Avenue and 29th Street when something catches his ear. It's jarring, immediate, clearly live. Bare bones, just guitar and vocals. A sign on a chalkboard next to the entrance reads "Pretty in Blue."
What, are they trying to subvert gender norms or something? Or is the music critic just overanalyzing a band name, as music critics are prone to do? Regardless, the vocalist knows how to sing; that much is clear even over the festive static of New York City on a Saturday night. Intrigued, the music critic enters.
He is enveloped by a soulful yet powerful voice emanating from the pipes of a shortish girl with red highlights and an infectious smile. Her name is Ashley Kervabon, and she makes up one half of the creative entity that is Pretty in Blue. In addition to singing lead on and writing roughly half of the duo's songs, she comprises the band's spare rhythm section with an egg shaker or a tambourine. In the absence of bass or drums, this small touch lends a lighthearted, vaguely festive air to compositions that might otherwise strike one as a tad heavy an Irish pub.
She is utterly immersed in her performance, belting out verses and sing-along choruses with the ease of a born performer. She stretches her voice to its limit without allowing it to break. If you look closely, you can see her complexion turn pink as she reaches for the high notes. This is a vocalist willing to challenge herself. At the same time, she enjoys it. Singing is clearly a cathartic endeavor.
Ashley's lyrics, present on roughly half of Pretty in Blue's songs, are a stew of complex, often contradictory impulses. The breakup stories are familiar, relatable, but the emotions are raw and undiluted, breaking over the audience like a tidal wave. Anger, regret and liberation vie for dominance in soulful tones that find the sweet spot between alternative rock and soul.
Every so often, in a gesture that seems more instinctual than rehearsed, she smiles at the audience, as if to remind them, "Sure I'm baring my wounded soul to you, but we're here to have fun, right? So buy another drink, assholes." One of the most distinctive things about Ashley's stage presence is that she manages to seem vulnerable and unassailable simultaneously. You want to go tell her that everything's O.K., but if you did, she'd probably punch you in face.
Standing next to her strumming a Fender acoustic guitar (the music critic would learn later that its name is Cherry) is a tall, olive-skinned girl with brown, curly hair. Her name is Bree Sepulveda, and her appearance and stage presence contrasts starkly with that of her bandmate.
Her stage presence, while engaging in its own right, is far more subdued. While Ashley seems to feed off the energy of the crowd, Bree is more subdued. Aside from her considerable songwriting talents, she can emote when the situation calls for it, to particularly memorable effect in fan favorite "Drink," a song with a festive tone that belies its dark subject matter (the lyrics are her own, but Ashley sings lead vocals).
However, there is something strikingly personal and intimate about the way she presents herself to the audience. For Bree, playing music is not so much performance as it is an essential part of her existence, like eating or breathing. This is not to say that she lacks a stage presence. There is something strikingly intimate and sincere about the way she performs so casually, almost as if she's forgotten that the audience is watching her, although the precision with which she plays her instrument suggests otherwise. She combines rhythm and lead guitar in a way that is distinctively her own.
Her style is quite versatile, with elements of rock, folk, country and blues mingling to provide an effect that is at once familiar and unique. Clearly, she is more concerned about the emotive capacity of the guitar than indulging in empty pyrotechnics. Her playing always serves the song, using chords and licks to punctuate the emotional content of her voice and lyrics. She may not be as animated as Ashley, in person or on stage, but her presence is ultimately just as captivating.
Pretty in Blue is nothing if not authentic. Ashley and Bree do not dress in flashy costumes to grab the audience's attention, nor do they limit themselves to spartan attire just to prove a point. The two young women do not fall neatly into any categories. They cannot help but be themselves, a quality that comes through in their music, their melodies, and their lyrics.
Ashley and Bree have become regulars at Paddy Reilly's Music Bar. They've also been known to play at Fitzgerald's Pub, a short walk away. Friendly advice from a music critic: come see them play for free while you can. They'll be playing The Bitter End in late April and at Paddy Reilly's on March 23 (that's right, this Saturday).
For now, you can sample their music below or on Soundcloud. If you like what you hear, come hear them play for free on Saturday. Give them a chance. You won't regret it.