William Ryman's "Bird" Sculpture Lands in Flatiron Near Madison Square Park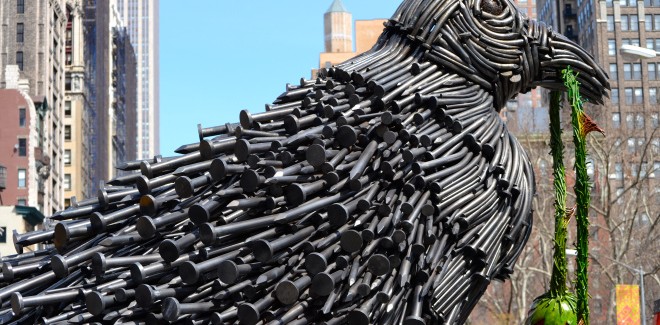 Let's welcome artist William Ryman's "Bird" sculpture to the Madison Square Park area and the Flatiron District for the next few weeks!
The imposing creation, composed of oversized nails, is a welcome companion to the flesh, blood, and feathered avian variety all of us at the New York City Seminar and Conference Center (NYCSCC) fraternize with in our sojourns through Madison Square Park. Along with our fellow New Yorkers, we hope that it is a harbinger of spring.
Also from Flatiron Hot! News: Buckyball in Madison Square Park
The sculpture can be seen at the corner of 23rd Street and 5th Avenue right where one gets some great pictures of the Flatiron Building. It is definitely worth a gander! The statue will be present only through April 24th, so make sure not to miss it.
You can view a selected bibliography of William Ryman's works and more at the sculptor's official website.