Justified Season 4 Finale – "Ghosts" – Review/Recap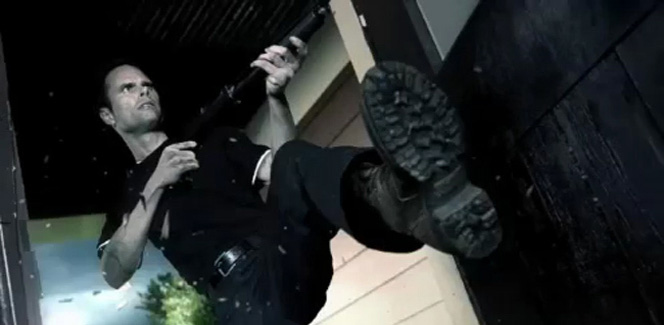 Warning: Full spoilers for Season 4 of FX TV series Justified, including season finale, "Ghosts."
Showrunner Graham Yost and Justified's writers attempted a daring gambit with Season 4 of their critically acclaimed, criminally underrated series, starring Timothy Olyphant as southern lawman Raylan Givens. They selected to forego the relatively tight narrative focus of the past two (and so far, best) seasons in favor of an episodic approach reminiscent of the show's early days.
Justified Season 4 Premiere – Review
Until the finale, the plot has loosely centered around one question: who is Drew Thompson, the supreme badass who crossed Detroit arch-gangster Theo Tonin (Adam Arkin) and faked his own death to get away with it. The path there has been filled with all manner of bizarre scenarios, some more successful than others. Although the season could have benefited from a more captivating central narrative, the writing and acting have been uniformly outstanding. Even in episodes devoid of plot progression, it has been a joy to simply watch such beautifully-drawn characters interact with each other.
Game of Thrones Season 3 Premiere "Valar Dohaeris" Review
Aside from some great (and brief) character interaction between Shelby-I mean Drew Thompson (Jim Beaver) and beleaguered whore Ellen May (Abby Miller), this plot line was not as satisfying as those of past seasons. But then, perhaps the mystery was not intended as much more than a plot device to set the show's players against each other. As expected, this has led to some amazing television, even if the viewer could occasionally see the narrative cogs turning.
The Walking Dead Season Finale "Welcome to the Tombs" Review
After a season chock full of labyrinthine (and not always believable) plot twists and moral ambiguities, the season finale starts with a refreshingly simple premise: Raylan Givens' baby mama Winona (Natalie Zea) is being held hostage by some bad guys and our hero has to save her. He does so quite quickly, and suffice to say there's gun play involved. However, before the thugs are dispatched, they happen to announce that Winona and her unborn child are now on Nick Augustine's (Mike O'Malley) hit list.
Raylan manages to solve this problem by crossing some new lines that bring him ever closer to the bad guy territory that Boyd loves taunt him with. Suspended from duty, Raylan is forced to confront Augustine in an unofficial capacity. In the process, our "hero" proves that he's just as adept playing around in the criminal underground as he is on the side of the law.
Although his highly illegal ploy is successful this time, such reckless behavior opens up the possibility of serious repercussions in the future. Whether this particular indiscretion or a subsequent one gets him into trouble, Raylan's more-than-questionable operating procedure is bound to bite him in the ass.  In the world of Justified, few crimes are forgotten.
No characters are more emblematic of this reality than Boyd Crowder (Walton Goggins) and fiance Ava (Joelle Carter). Ever since the two lovesick criminals got engaged and started shopping for a house a few episodes ago, fans have been predicting all manner of dastardly outcomes. And, indeed, the chickens come home to roost for both characters in this episode. When Boyd and Ava fail to recover an incriminating body before the cops (whose timing has been a wee bit too impeccable this season), the former comes up with one of his signature devious schemes to help his future wife get away with murder.
Alas, due to the untimely intervention of one Raylan Givens, who needs Boyd to help him find Augustine, Ava's left to finish the job herself. This time, she's caught red-handed when a key player in the scheme tips off the cops. It looks like Ava's headed to jail for a long time, and in one of the episode's most heartbreaking moments, Boyd comes to the realization that he's landed the woman he loves in an awful predicament. If Justified stays true to form, the latest hitch in the criminal genius's plans is going to lead to some serious soul searching (and maybe a few gunshots) next season.
"Ghosts" isn't a big episode in the way that season finales should be, and it lacks suspense with the exception of a few key scenes. One wonders if the events of this episode would have resonated more if they'd been tied into the Drew Thompson plot rather than tacked onto the end of the season. Indeed, Season 4 of Justified has lacked focus, with great scenes losing some of their weight because they fall at odd, seemingly arbitrary points in the narrative (Johnny's portrayal and the deaths of Arlo and Colt come to mind).
Still, the season finale, and the entirety of the season for that matter, have enough satisfying moments to make them well worth watching. Even at its weakest, Justified is still one of the best shows on TV, and one gets the impression that many of this season's events are setting the stage for future happenings in Raylan Givens' Kentucky.
With Theo Tonin out of the picture due to Drew Thompson's testimony, and his decidedly less-savvy son in charge, there's a power vacuum in the Detroit mob waiting to be filled (perhaps by Jere Burns' Win Duffy, now eager to enlist Boyd in his Harlan County heroin enterprise). Just as crucially, there's a vacuum in the hearts of the show's two main characters, and when Raylan and Boyd are in emotional distress, things tend to get dicey. While Yost doesn't exactly leave a breadcrumb trail for fans to follow regarding what to expect next season, it's safe to say there'll be some gun play (not to mention some clever wordplay) involved.