Scabby the Union Rat Stands Vigil Over Two Trees Management in Flatiron District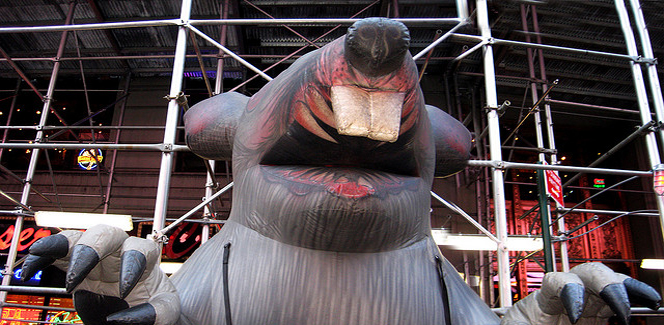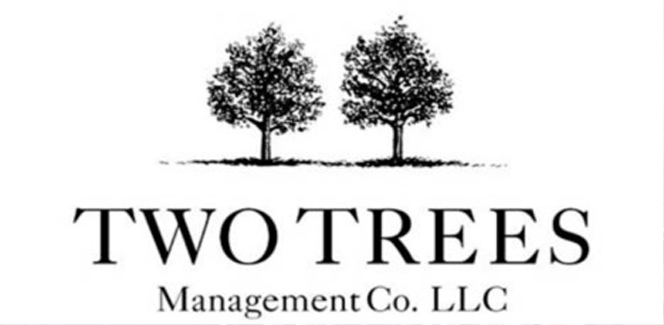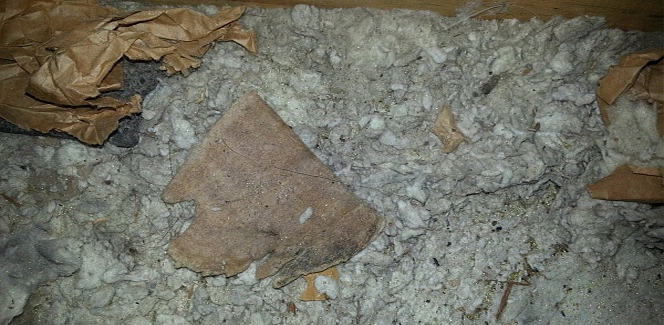 Despite rumors early this year that Scabby the labor union rat might be on the verge of retirement, it turns out the activist animal is alive and well. In fact, the inflatable rodent has taken up residence right here in the Flatiron District, and for good reason. Installed throughout New York City to draw attention to businesses that incur the wrath of the unions, Scabby has provoked no small number of complaints, speaking to the fact that it is a potent, if controversial mascot.
The union rat's latest target is Two Trees Management, a real estate company that has employed New York Insulation, cited 110 times for improper asbestos abatement by the NYS Department of Labor, as well as other organizations. New York Insulation stands accused of other violations, such as not compensating employees for overtime work, although the company denies these charges. Scabby has set up shop at Two Trees properties in several locations, including DUMBO, and even in front of the Trump Tower and, as pedestrians in the Flatiron District might have noticed, on the south side of 23rd Street between 5th and 6th Avenues.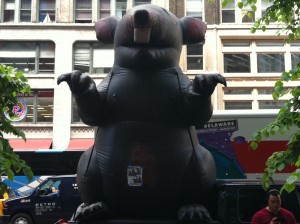 Although stationing a scabrous  inflatable rodent on the street in front of questionable businesses may risk alienating pedestrians, preventing asbestos poisoning is a worthwhile cause.  Asbestos is a mineral frequently used in construction due to desirable properties including sound proofing, electrical insulation, and lack of flammability. However, when inhaled without proper protection, it can lead to many potentially deadly health problems for builders as well as those working or living in close proximity. It has been linked to lung cancer, mesothelioma and asbestosis, to name only a few of the diseases associated with the widely-used material.
In response to the concerns raised by labor unions and confirmed by city inspectors, New York State has declared a moratorium on New York Insulation construction projects. Officially, the company has been "debarred and declared ineligible to submit a bid on or be awarded any public work or public building service contract/sub-contract with the state, any municipal corporation or public body in New York State" until May 16, 2017. However, Two Trees Management has not suffered legal consequences, prompting union leaders to launch a PR campaign that calls attention to their employment of the offending company.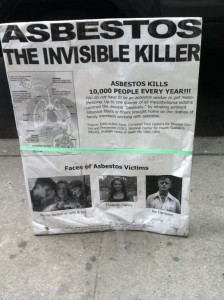 Scabby the rat has constituted a major part of this campaign, making its presence felt at properties involved with Two Trees. In addition to making a statement that is almost impossible to miss, the unions have deployed informational billboards, as well as representatives at Scabby's various locations to hand out fliers pertaining to the dangers of asbestos and the companies that are negligent in providing their employees with the proper protection.
Noble though his cause might be, Scabby's ostentatious presence has been controversial. Aside from pedestrians' reactions, even union leaders have questioned whether setting up giant inflatable rats is the best way to get their message across. Early in 2013, Sean McGarvey, President of the AFL-CIO Building and Construction Trades Department, expressed a wish to retire Scabby, a presence at union protests for decades. Asked to elaborate, he explained: "the rat symbolizes intimidation tactics of 30 years ago. We want to engage owners re: our value proposition, not threaten them." It is worth noting that the prospect of deflating the rat has been skittering around the internet since at least 2009.
Obviously, it appears that the most recent claims of Scabby's retirement were premature and did not reflect the opinions of many union officials. The rodent can still be found around New York City, and those who are interested can even visit his official Twitter page, where he currently boasts over 9,000 followers. Even if Scabby's days are in fact numbered, it is clear he will not slink away into the subway without a fight.