Wimbledon Comes to Flatiron – Tennis Court at 5th Ave & 23rd?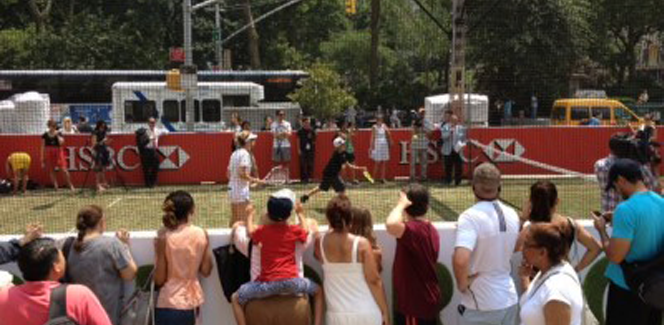 On

June 26, 2013

http://www.flatironhotnews.com
By Korvin Vicente and the Flatiron Hot! News Editorial Staff
No, your eyes do not deceive you – the reporters of New York City Seminar and Conference Center's Flatiron Hot! blog found a tennis court abutting busy mid-morning traffic and the Flatiron Building, with players polishing their serves and ground strokes!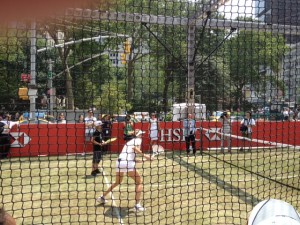 Flatiron is now the proud home of Manhattan's only outdoor grass tennis court. Don't believe us? Then grab your tennis racquet and head down to 23rd Street between 5th and Broadway and see for yourself.
In conjunction with HSBC Bank, the Wimbledon All England Club Tournament, taking place in England as we speak, presents "HSBC Serves Up the Perfect Day at Wimbledon", a three-day tennis celebration that began on Tuesday next to the historic Flatiron building and Madison Square Park. During the kick-off event, lucky attendees got the chance to square off against some of the pros, including former number-one- ranked players Monica Seles and Jim Courier.
Also at the event, make sure to enjoy the complimentary Strawberry and Creams being distributed daily. The tasty dessert is a Wimbledon tradition, and has become an essential part of the tournament over the years.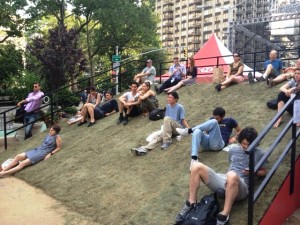 The event will also feature streaming of live Wimbledon matches on a giant screen from 11am to 7pm daily, courtesy of ESPN. You can take a break and enjoy the free entertainment in the HSBC Bank outdoor seating area recreated to resemble Henman Hill, the famous grass-covered Wimbledon viewing area.