Flatiron Hot! Pundit: Jessica Lappin Opens Campaign Office, Targets Middle Class Voters and Touts Educational, Economic, Land Use Expertise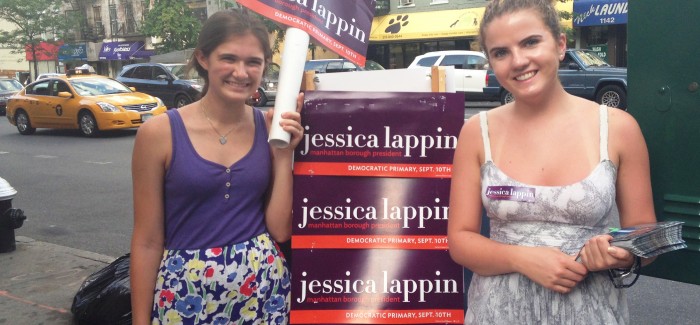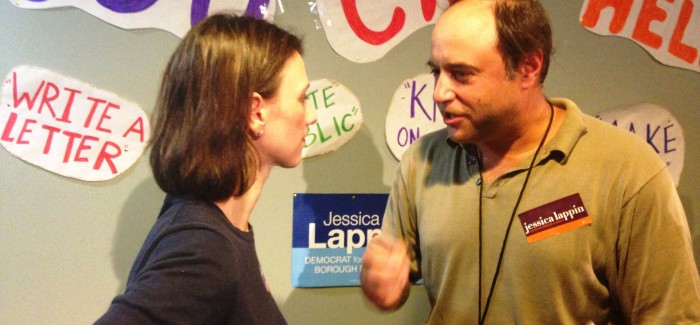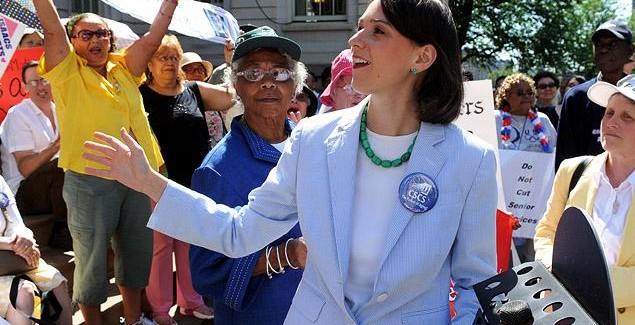 By Raquel Waite, Tod Shapiro and the NYC Seminar & Conference Center Flatiron Hot! News Editorial Staff
On Wednesday evening, Democratic candidate for Manhattan Borough President Jessica Lappin, accompanied by her senior campaign staff and many eager local supporters, volunteers, interns, family members and well-wishers, celebrated the opening of her  2nd Avenue campaign headquarters and her successful addition  to the ballot for the upcoming primary.  Lappin, currently a City Council member representing the Upper East Side as well as Roosevelt Island, is throwing her hat into the ring to replace the term-limited Scott Stringer, who is vacating the office to run for City Controller.
Lappin will be competing in the September 10th primary against three other Democrats (Julie Menin, Gale Brewer and Robert Jackson).  The winner is virtually assured of victory in November in Democratic  NYC.  The Borough Presidency, while far less powerful than the Mayor's office, is often viewed as a stepping stone to higher office and has influence in terms of advocating for the borough and serving as a "bully pulpit", as well as allocating certain capital funds, and also for appointments impacting land use under the City Charter.
Lappin, a Stuyvesant High School and Georgetown University political science grad and married mother of two school-age children, has built a name for herself based on her expertise and involvement with land use, environmental and educational issues during her time on the City Council since being elected in 2005. Lappin is focusing her campaign on pocketbook middle-class issues, including improving the local public schools, modifying the rent laws to help middle class tenants, and encouraging environmentally sound land use planning within Manhattan. With two young children currently in the public schools, she is intent on improving parents' access to and influence on school policies under the current system of mayoral control. Lappin is recognized as one of the strongest advocates for environmental protection on the City Council. She played a critical role in acquiring funding for three waterfront parks in Manhattan and promotes environmentally safe development in the city.
Among Lappin's notable accomplishments are her constructive role, along with the Bloomberg administration, in getting the Cornell-Technion project started on Roosevelt Island, which may pay off considerably in terms of economic development, graduate science education, and growing New York's status as a high-tech mecca. It is estimated that the campus will generate approximately 20,000 construction jobs and 8,000 permanent jobs. The Flatiron District, with its big footprint as a tech strong-hold in Manhattan, needs all the well-trained engineers and programmers it can find, as well as the potential synergies in having this new institution nearby. Certainly, Lappin's efforts on the often dysfunctional and rubber-stamp City Council, and its corruption-plagued membership, should stand her in good stead in this election and set a positive example.
The NYC Seminar & Conference Center's Flatiron Hot! News staff were in attendance at the exuberant event to report back on behalf of the Flatiron/Chelsea neighborhood, and observe the proceedings as Lappin's family and intrepid crew of campaign volunteers were set to inaugurate their new HQ.
If enthusiasm was any measure, Lappin's campaign event was a success. Guests were greeted on a sidewalk by her youthful supporters who brandished 'Jessica Lappin – Manhattan Borough President' campaign signs. Many people, young and old, mingled and happily sampled snacks and beverages. The crowd was introduced to her husband and young children, and shortly afterward, the candidate took her place at the front of the room. She delivered a short speech that centered on her gratitude for all the support and assistance she has received so far, and offered a promise to fight for the middle class.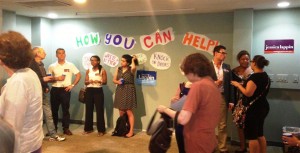 Flatiron Hot!'s reporters got some fun pix and a YouTube Video of the candidate urging her staffers on. No doubt reflecting her outlook as a mother and concerned parent giving birth to new progeny, she at first confused the approximately 9 weeks until the election with the 9 months it takes to give birth to a child – no question, for her and her supporters, the attention and care they will give to the campaign will be the same. Check back at Flatiron Hot! News for more news to come form the campaign trail!