Flatiron Hot! Tidbits: General Assembly Free Public Class on NYC Startup Opportunities – Get Your Startup Going!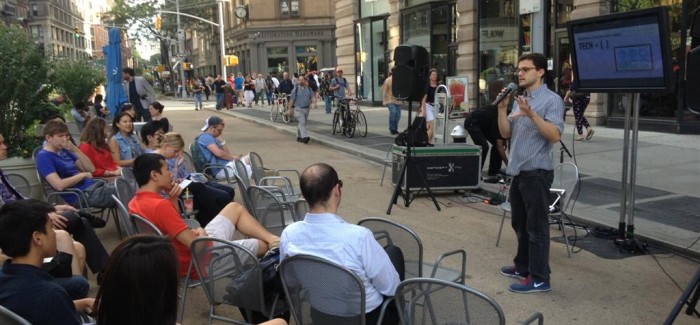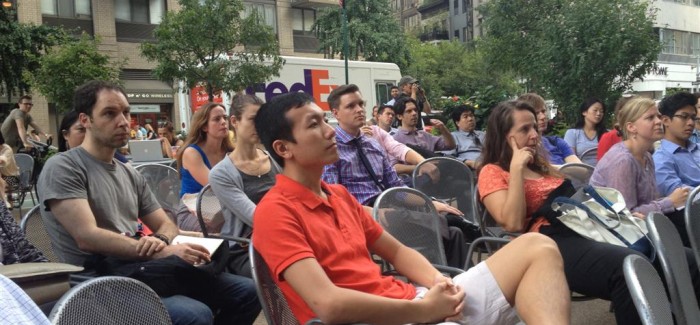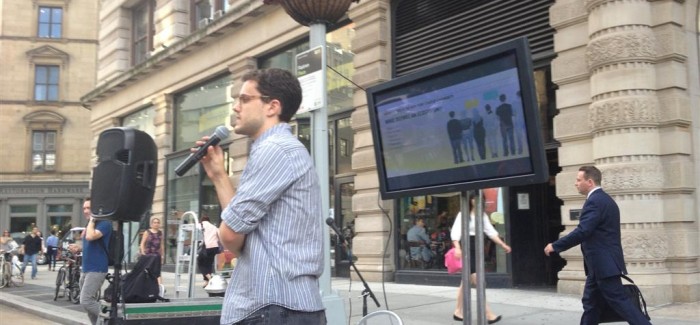 By Tod Shapiro, Jessamyn Meneghin and the Flatiron Hot! News Editorial Staff
A stone's throw from Flatiron Hot! News and NYC Seminar Center's offices at the corner of 23rd Street and Broadway, in the shadow of the Flatiron Building itself, who would know that some of the best things in life are free? The Flatiron 23rd Street Partnership is at it again, along with Flatiron District training/consulting firm General Assembly, sponsoring and offering free public classes to area residents and budding entrepreneurs. What could be cooler than taking a class, right out in the open at the public plaza at at Broadway by 22nd and 23rd Streets, and watching the world go by, and at the same time being privy to all sorts of hot insider tips on how to get going with your hot idea for a new product, service or business?
Jordan Hepner, Head of On-Line Education at GA, lectured for one hour this Tuesday evening. His theme was simple – take your great idea, and take advantage of all the Flatiron District and NYC has to offer to kick start your dream. About 50 people took seats to hear Jordan lecture. He mentioned the plethora of VC firms, networking opportunities, office shares, and local blogs that exist right here to help you get started. He mentioned how firms Tumblr and Foursquare and several others got started that way in the Flatiron neighborhood. Jordan had some counterintuitive advice for those in attendance: if you've got a great idea, don't worry about non-disclosure agreements and keeping it secret out of fear it will be stolen – you want to talk to and get contributions from all the talented people residing in the neighborhood, and that means spreading the word via blogs, networking opportunities, and the general two-way clamor that is part and parcel of this area.
One interesting piece of advice was for those looking to break in and find a job; Jordan reports that many start-ups are more than happy to take non-tech and general-skills types looking to work in the start-ups as customer service agents, ad designers, and general gofers – and that these positions are mostly filled by word of mouth and insider connections among the critical mass of young, talented people in the district! So paying attention to the blogs, social media platforms, and other networking opportunities really can pay off. General Assembly will be featuring more such seminars in the following weeks – "Art of the Pitch" and "Google Analytics" – so keep your eyes peeled! Click here to see the PDF presentation for the seminar …
Jordan, as he made his way through his talk, gave a great list of local sites that are ideal for newbies looking to get started at many of the exciting new companies located in Flatiron …
• cofounderslab.com
• themuse.com
• mappedinnyc.com
• path.to/jobs.com
• rapportive.com
• getuncubed.com
Here's a list of some red-hot blogs and online resources that one can use to stay on top of what's current and exciting in the NYC startup community …
• betabeat.com
• cdixon.org
• avc.com
• generalassemb.ly/blog
• news.ycombinator.com
• pandodaily.com
• paulgraham.com
• businessinsider.com/sai
• techcrunch.com
And, here's a list of sites of a more general-news nature to check out for a broader industry background …:
• thisisgoingtobebig.com
• garysguide.com
• generalassemb.ly
• startupdigest.com
• getwakefield.com
Again, as many know from personal experience, getting your foot in the door in the startup community can seem like a daunting task – but many New Yorkers have done just that and have been very successful! Don't give up hope – if your ambitious and hard working, there's no reason why you could not be part of the next AppNexus, Etsy, Four Square, Gilt, or Tumblr, all of which began as simple startups in NYC right in Flatiron's Hot's own backyard!