Flatiron Hot! Foodie: A Business "Hot!" Lunch at Ben and Jack's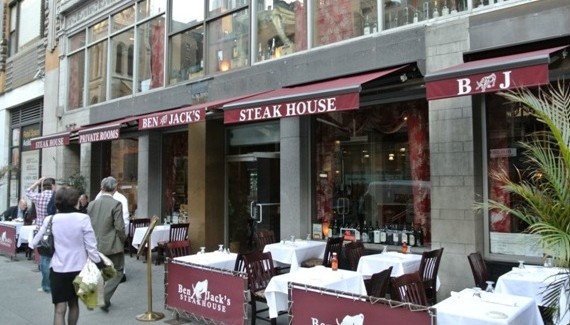 By Korvin Vicente and the Flatiron Hot! News Editorial Staff
As the summer heat began to gradually ebb away, the NYC Seminar and Conference Center (NYCSCC) staff and interns headed uptown to Ben and Jack's Steakhouse to commemorate another successful summer at NYCSCC.
Located at 255 5th Avenue, between 28th and 29th Streets, Ben and Jack's is the direct descendant of the legendary Peter Luger Steakhouse in Brooklyn. The brainchild of a group of former Peter Luger waiters, Ben and Jack's Steakhouse is filled with dark wood furnishings and large mirrors which offer an inviting, yet mellow, ambience.
As a group of eight with eager appetites, we quickly placed our orders – eight 12-oz. sirloin steaks, each served with a side of mashed potatoes and broccoli. The steaks were flawlessly prepared, and after we scarfed them down, dessert was ushered out – a delicious cheesecake with the perfect crust, which left us thoroughly satisfied and served as the perfect wrap to our evening.
Ben and Jack's Steakhouse was an overall nice surprise. The pleasant atmosphere and cordial staff definitely made an impression on us, and the Steakhouse has undoubtedly earned recommendations from all of us over at NYCSCC.
In addition to their 5th Avenue site, Ben and Jack's Steakhouse has another location at 219 East 44th Street.