A Four Course Peruvian Meal at Raymi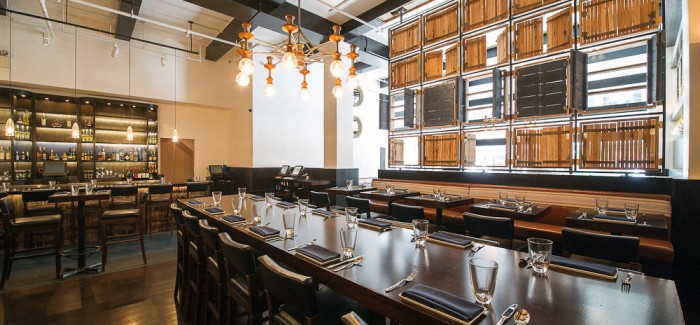 On

August 28, 2013

http://www.flatironhotnews.com
By William Chen and the Flatiron Hot! News Editorial Staff
Not too long ago, Flatiron Hot received an invitation to attend a dinner event at Raymi, a Peruvian restaurant located at 43 West 24th Street. Like any food lovers, we were eager and excited to try out an unfamiliar cuisine.
Peruvian food has Spanish, Chinese, and Japanese influences, drawing heavily on corn, chili peppers, and potatoes. Chef de cuisine Eric Ramirez, who personally prepared a delicious four-course meal, delved into the details of each dish. Without further ado, here is a brief rundown of our experience:
1st Course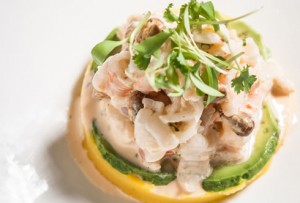 The first course, Causa, was perhaps the highlight of the meal, which is not meant as a slight to its successors, but rather as a testament to its sublimity. Prepared with cold potato puree, aji amarillo, tuna, octopus, salmon, avocado and spicy mayo, the various ingredients stood in perfect balance, resulting in a dish flawless in flavor, texture, and portion size.
The cold potato puree made for a great base, as it was slightly sweet and creamy but not too rich. The tuna, octopus, and salmon created the soothing, savory flavor, while the seasoning of gentle spices and lemon juice contributed just the right amount of tartness. The spicy mayo and aji amarillo (Peruvian yellow chili pepper) topped the dish off with a little zip and a piquant ending.
Raymi's Causa is a dish of many textures that come together in a simple, yet exquisite manner. The tuna and salmon create a soft but firm texture, accomplished with a puree of potato and avocado. Meanwhile, the octopus not only compliments the flavors of the fish but, with its relative toughness, serves as a textural counterpoint to the creaminess of the other ingredients.
2nd Course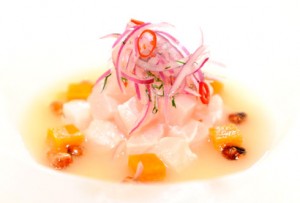 The Wild Striped Bass Tiradito ceviche was another fresh and refreshing dish prepared by Raymi. Raw sea bass sprinkled with lime juice to make it more acidic and tart, the dish does not stray far from expectations. While avid lovers of ceviche will not be the least bit disappointed, this is a rather straightforward take on a classic dish and a suitable preamble to the main course.
3rd Course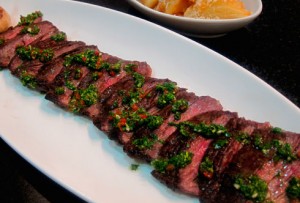 Lomo Saltado combines a number of common foods and flavors into something that stands on its own: hanger steak, soy sauce, tomato, red onion, crispy fries and a side of jasmine rice.
The hanger steak is the centerpiece of the dish. Each chunk of the steak sets the standard for how hanger steak should taste. It is perfectly prepared, with just the right tenderness as it soaks up the flavor of the special soy sauce.
The sauce, while great for the steak, overwhelmed the flavor of the jasmine rice. The fries are a rather neutral touch, colliding with the rice in a battle of the starches but adding to the dish far more than they detract. Overall, the Lomo Saltado is a more than worthy main course that we would recommend without reservation, especially after some delicious and varied appetizers.
4th Course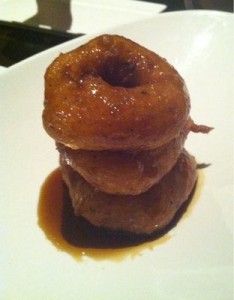 Peruvian Crispy Donuts with Chancaca Honey, a popular Peruvian street food, make for a mouthwatering dessert. They were familiar – similar to the fried dough you'd find at a carnival – but with a hint of exoticism owing to their unexpected ingredients: squash and sweet potato picarones.
Delightfully crispy and dipped in gooey chancaca honey, these distinctly Peruvian donuts are an irresistible indulgence of the kind your doctor would surely advise against until he or she tastes them. The chancaca honey was exactly how honey should be: smooth, but thick, complementing the donuts splendidly without drowning out their crispiness.