Pie Face Brings Coffee, Baked Goods and Quirky Sensibility to Chelsea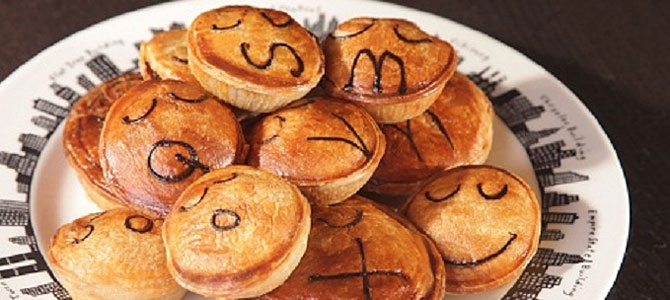 Flatiron Hot News recently had the opportunity to speak with Tennille Scicluna, the Senior Marketing Manager of the Pie Face that just opened on 23rd Street and 7th Avenue, in the heart of Chelsea and a few blocks away from the Flatiron Building.
An international chain with six locations throughout New York City and two more on the way, Pie Face offers a variety of baked goods and coffee selections with a distinctly Australian vibe. Scicluna provided some background on the history of the Pie Face franchise, explaining how it stands out from the glut of bakeries and cafes in the area. If you want a snack to supplement your information, stop by Pie Face's Chelsea location for some free samples in honor of its opening.
Flatiron Hot: When and where was Pie Face founded?
Tennille: Pie Face was founded over 10 years ago in Bondi, Sydney Australia. We have an extremely LOVED network of stores in Australia with over 74 opened to date.
Flatiron Hot: What is distinctively Australian about Pie Face?
Tennille: We are famous all over the world for our Australian savory pies, delicious savory fillings in puff pastry pockets baked until golden brown and extremely flaky. It's Australian cuisine at it's best. We also serve traditional Australian staple items such as our signature coffee 'Flat white' and Australian Lamingtons.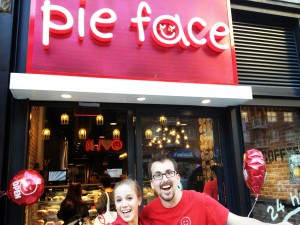 Flatiron Hot: What is your "hook?"
Tennille: Well let's start with the fact that our pies have funny little faces on them. Super cute, this is also a code for telling you what's inside. The trick is in the mouth. S for steak, V for vegetable and so on. Our pies are made with only the freshest ingredients. Trim lean meats, fresh local produce, no added flavors, colors or preservatives. We also bake everything on site fresh throughout the day. If this isn't enough to get you excited, we are also open 24/7.
Flatiron Hot: Does Pie Face have a unique aesthetic?
Tennille: We are just a fun and energetic family with amazingly great food.
Flatiron Hot: Is Pie Face present in other states/countries?
Tennille: We have over 74 stores in Australia, 6 here in Manhattan and 1 in New Zealand. We have 2 more locations opening in NYC over the coming weeks.
Flatiron Hot: What separates Pie Face from the numerous other bakeries in the neighborhood?
Tennille: Well, our hot and flaky savory collection is a serious point of difference. In addition, our coffee menu is cutting edge. We roast our espresso beans in our facility in Sydney Australia and then fly them to New York. Our hard blend is an award winning bean and we are committed to excellence in coffee. We have three coffee strengths at Pie Face so you can decide how you wish to wake up. The strengths are "Open my Eyes," "Start my Heart," and "Kick my Arse."
Flatiron Hot: What are some of your most popular offerings?
Tennille: Our stack is the best! You pick the savory pie of your choice and then we top it with mashed potato, mashed peas and gravy.
Flatiron Hot: Can you talk a bit about your "grand opening" and what it entails?
Tennille: We have the spinning wheel happening every day for two solid weeks. You can win some seriously tasty prizes. We will also be sampling goodies heavily over the next few weeks so come by for an official tasting.
Flatiron Hot: What free samples are you distributing?
Tennille: Pies, pies and pies! Plus, delicious espressos and Aussie iced coffees.
Flatiron Hot: What are a few adjectives you'd choose that embody the Pie Face brand?
Tennille: Nom, nom, nom!!!
Where can one find more information about Pie Face?
Tennille: www.pieface.com or Facebook.com/piefaceusa