Holocaust, Genocide & Raphael Lemkin's Legacy: A Panel Discussion at the Center for Jewish History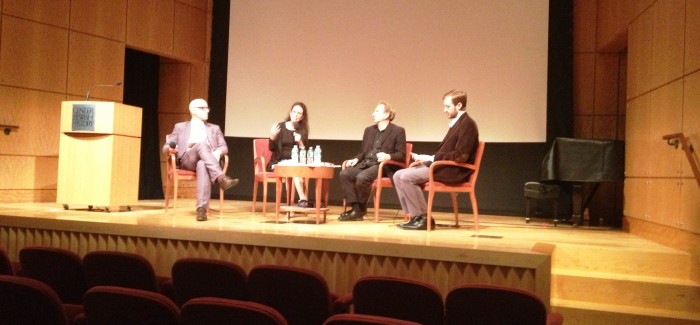 By Tod Shapiro and the Flatiron Hot! News Editorial Staff
On September 24th at the Center for Jewish History, a panel discussion explored the legacy of one of the 20th century's great unheralded notables: Raphael Lemkin. The Polish-Jewish intellectual and lawyer worked the corridors of power in the United Nations in the difficult years after World War II in an attempt to persuade humanity to enshrine a cornerstone of international law – the Convention on the Prevention and Punishment of the Crime of Genocide.
Lemkin is generally viewed as having played a key role in defining and setting the parameters of the term "Genocide," which from 1951 onward became a keystone in the lexicon of International Law and serves as a warning for individuals or states, although its enforcement to this day has been a controversial and difficult proposition according to the discussion heard on Tuesday evening.
The Center for Jewish History brought together three notable experts on Lemkin and the topic of genocide and human rights law: Donna-Lee Frieze, editor of Lemkin's just released autobiography, "Totally Unofficial – The Autobiography of Raphael Lemkin" and Prins Fellow at the Center for Jewish History; Peter Balakian of Colgate University and A. Dirk Moses of European University Institute and the University of Sydney.
Lemkin was born in Poland and grew up on a farm as part of a modest and hard-working Jewish family – unusual for the time, as Jews could not  legally own land at that time in Poland.  He was very much part of pre-War Poland's heterogeneous multi-ethnic fabric which included Jews, Catholics, Germans, Ukrainians and other minorities.  Raised as a Jew, he considered himself first and foremost a proud Polish citizen and patriot; he was trained and achieved recognition as a lawyer and public intellectual during his professional career in Poland before the War.
Thus, according to Professors Frieze, Balakian, and Moses, his outlook and approach to forming a law on genocide was rooted in the terrible traumas experienced by Poland during World War II and the post-War period: the Holocaust of the Jews in Poland and throughout Europe, and also the disasters of the whole Polish nation, perpetrated against all Poles at the hands of the Nazis and subsequently the Soviet Communists.
The former were motivated by racial theories that labeled Jews and Poles as inferior, while the latter adhered to an equally-pernicious secular ideology. Despite their antipathy towards each other, the Nazis and the Soviets both aspired to nothing less than the extermination of the Jewish race, and the destruction of the territorial, intellectual and cultural elite of the entire Polish nation. Moreover, in addition to exterminating the people, they aimed to eradicate a culture.  Of course, both of these insidious efforts were key to understanding Lemkin's subsequent efforts to define an effective genocide law.
Lemkin's personal experience as an outsider, coupled with his deep knowledge of European history (including the Turks' genocide of the Armenians at the turn of century) made him an irrepressible advocate for a genocide law.
Lemkin barely escaped Europe with his life and lost much of his family in the Holocaust. Joining the exodus of European intellectual refugees that established themselves in the United States, he was able to continue his career as a top-notch international lawyer with appointments at Yale and Duke University. Never forgetting the traumas and disasters of his Polish homeland, he single-mindedly pursued a lobbying effort to get the nascent international bodies of the post-war era – primarily the UN and the Great European Postwar Powers – to face up to the task of preventing any further "genocides" – a term of which he is largely responsible for creating and popularizing. Lemkin's great goal was to enshrine a concept of genocide that focused on not only the physical extermination of a people, but also of their cultural and ethnic heritage as part of a considered, intentional strategy of destruction.
As the scholars related, this was no easy task. The Great Powers, victorious in World War II, had their own interests and goals that diverged from solely moral dimensions even given the awareness of the recent Holocaust, and therefore in many cases they resisted Lemkin's efforts to promote a broad and muscular definition of genocide. As the scholars pointed out to the audience, nation-states seem to endemically fight with each other over their borders, resources, and the loyalty of constituent minorities and ethnic groups, and look askance at any justification in the form of laws and treaties that might allow outside parties to meddle in their internal affairs, even where it might be necessary to prevent genocide.
Lemkin had to confront the diverging interests of Great Britain, dealing with the dissolution of its colonial possessions after World War II, the Soviet Union with its resistance to any political interference with its Cold War consolidation of power in Eastern and Central Europe, and a United States that was war-weary and preoccupied with the beginnings of the Cold War .
Lemkin became a familiar and omnipresent (some say "pitiable") figure in the corridors of power. A film clip showed during the session featured the current U.S. Ambassador to the United Nations, Samantha Power, who was influenced and inspired in her work by Lemkin's efforts. In the clip, Lemkin was described as obsessed and singular in pursuing his goals, being compared to a wandering "hermit crab" who pursued his goals to the exclusion of his own health and economic well-being.
He did in fact die alone and almost penniless after seeing his efforts culminate in appropriate UN Resolutions in 1948, which came into effect after ratification by the required 20 countries in 1951. Never loved, and often considered a nuisance by diplomats in an era where national interest and ideology came to take precedence over purely humanitarian concerns, his sheer doggedness paid off in the end.
Lemkin left for posterity a draft autobiography that bids fair to change history's perception of him as the distant, obsessive, single-minded figure reported in the history books and the media over the years, and as evident in the film clips shown at the session. Deposited in hand-written form with numerous revisions and multiple drafts that were barely legible in the New York Public Library Archives, this treasure of one of the 20th century's great moral figures was given little attention and seen by few – until now!
Professor Frieze spent four years studying and transcribing this manuscript, editing it where necessary from the many incomplete versions and drafts that made up the papers, and prepared it for publication as Totally Unauthorized: The Autobiography of Raphael Lemkin (2013). (It was just reviewed in the New Republic – click here to see!) The manuscript shows a figure at variance with conventional wisdom, and highlights his tremendous erudition as an international lawyer and advocate.
Lemkin's descriptions and impressions of pre-war Poland and his upbringing as a Jew, his odyssey in escaping from the Holocaust and coming to America to pursue his quest on genocide prevention, and his descriptions of his motivations and observations of his fellow Poles and Jews in their agony make a stark contrast with the grey and austere figure one has seen in the historical record. As Lemkin was a Polish patriot first and foremost, and not a Zionist as was pointed out  by tonight's speakers, he was not beloved by many of the post-war generation of Zionists and American supporters of Israel. A new recognition of the man and his demeanor is surely in order.
Dr. Frieze generously signed copies of her new book after the session, and she and her fellow panelists conducted a lively question and answer session with the audience upon completion of their round-table discussion. Questions included how Lemkin would have responded to the catastrophes of our current era in Bosnia, Rwanda, and even Syria, and what he would have thought of the efforts of the UN, the organization that he, and so many others, invested so much of their hope, energy and wishes for a better, safer world in. The consensus seemed to be that he would have been disappointed in many ways, albeit not surprised. But, he would surely have urged supporters of human rights to fight on doggedly as he did in his life's work.  Our thanks to the Center for Jewish History for hosting this interesting and important event.