Giuseppe Penone "Ideas of Stone" Tree Sculptures Sprout in Madison Square Park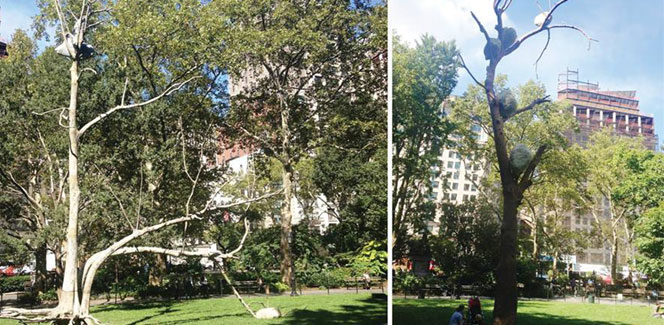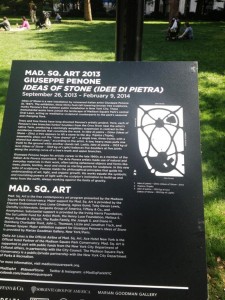 By Eric Shapiro and the Flatiron Hot! News Editorial Staff
Perhaps you were walking in New York City's Madison Square Park after taking a break at your event at NYC Seminar and Conference Center,  and you noticed more trees than usual – you look up and do a double-take – perhaps you picked up on the odd fact that the trees had what appeared to be boulders nestled in the branches!  No, you weren't hallucinating. You can rest assured that no one slipped a tab of acid in your coffee.
The tree sculptures you noticed were part of "Ideas of Stone," the new installation by artist Giuseppe Penone, brought to you by the Madison Square Park Conservancy's Mad. Sq. Art. The installation does not officially open until Thursday, but if you're curious you can take a look at the 40-foot bronze tree sculptures now. Or, you can view Flatiron Hot's photos and video below.
This exhibit follows in the footsteps of Orly Genger's "Red Yellow and Blue" (May 2 – September 8) as well as previous Flatiron installations including the very popular  Leo Villareal's Buckyball and the beloved  William Ryman's "Bird".  Indeed, Madison Square Park is becoming a canvas for some cutting edge, monumental sculpture showings!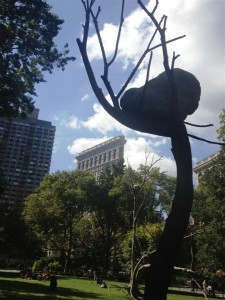 Penone issued the following statement about the installation: "It is with great anticipation that I have planned for the exhibition of my work in Madison Square Park. A tree summarizes in an exemplary way the contrast between two forces: the force of gravity and the weight of life we are part of. The need and the search for balance, which exists in every living being to counteract the force of gravity, is evident in every step and in every small action of our lives. It is a river stone that appears amid the branches of a tree. A stone suspended amid the branches of a tree, separated from the soil by a structure that is not land and is not air, a stone that lies between the force of gravity and the force of the attraction of light."