Madison Square Eats Continues Through October 25th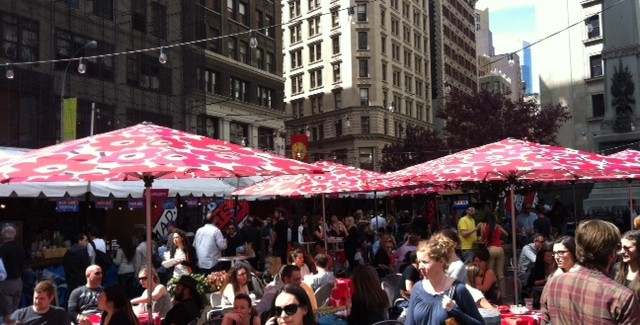 Eating Up at Madison Square Eats!
By Louis Huneke and the Flatiron Hot News Editorial Staff
The Flatiron Hot News blog would like to remind Flatiron patrons of the semi- annual Madison Square Eats event. Established by UrbanSpace and the Madison Square Park Conservancy – click here to see their web site info page – the food fest will be running daily from now to October 25th from 11 AM to 9 PM; food stands are set up from a variety of restaurants and bakeries that offer their best mouthwatering meals. Most of the dishes offered will be priced at around $8. Come experience the best of the Flatiron culinary community!
Here's a full list of the vendors:
Arancini Bros.
Asiadog
Bar Suzette
Calexico
Charlito's Cocina
Dreamscoops Ice Cream
Eleni's New York
Graffiti│Mehtaphor
Hong Kong Street Cart
ilili
La Sonrisa Empanadas
Macaron Parlour
Mason Jar NYC
Mayhem & Stout
Melt Bakery
Mexicue
Mighty Balls
Mimi and Coco NY
MMM ENFES
Momofuku Milk Bar
Mrs. Dorsey's Kitchen
Nunu Chocolates
People's Pops
Red Hook Lobster Pound
Roberta's
Seoul Lee Bar B Cue
Stuffed Artisan Cannoli
Sunday Gravy NYC
The Cannibal
Third Rail Coffee
Go out and taste the best of New York before it's too late!