Flatiron Hot! Critic: Cross-Strait Relations Exhibition on Display at New School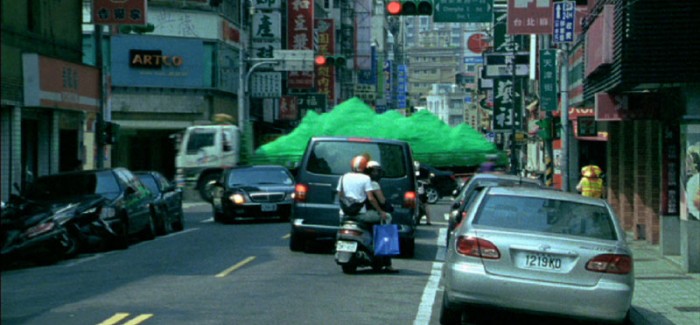 On

October 23, 2013

http://flatironhotnews.com
By Kristin Travagline – Edited by the Flatiron Hot! News Editorial Staff
Standing in front of a projector screen at the New School's Anna-Maria & Stephen Kellen Gallery, I am fixated on the image of an enormous, bright green, craggy mass that looks like it was made out of papier-mâché. Jun Yang's short film Phantom Island, 2009 flits across the screen in the Cross-Strait Relations exhibition, curated by Arthur Ou, at Parsons' Sheila C. Johnson Design Center, located at 2 W. 13th Street on the ground floor. Cross-Strait Relations will remain open through December 15th, 2013. The gallery is open daily from noon until 6:00 PM, except on Thursdays when it remains open until 8:00 P.M. Admission is free.
I watch as the green mass is transported on a truck bed through Taipei, the capital of the Republic of China. Although comical in color and shape, the lone island exudes solemn gravitas as it drifts through the sea of cars.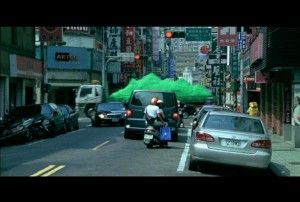 The screen goes black and the sound of waves emits from speakers. Expansive water, framed on both sides by stone walls and towers, materializes. Slowly, a boat pulling the green island emerges from the left side of the screen and tugs the structure out to sea. The man-made island passes in front of a round and rugged mountain, mirroring its shape. Then there is only vast sky and water. The boat departs from the green island, bobbing alone in the East China Sea. Water surges rapidly beneath our boat and we move farther and farther away from the island until it fades to a faint shade of green on the horizon. The "spectral" island is symbolic of Taiwan and ends up in a "no man's sea" between China, Taiwan, and Japan.[1]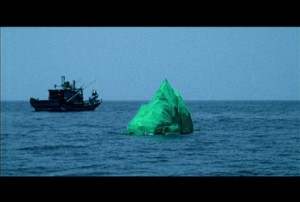 Cross-Strait Relations exhibits video, photography, installation, sound and performance from artists whose works reflect their travels from one Chinese region to another. Working in conversation with one another, the pieces explore geographical, cultural, and political aspects of Chinese identity. Transcending these themes, the show also explores "temporal traversing," "translation," and "transformation."[2]
For example, Heman Chong's piece Bloom (Blob), 2013 transforms thousands of red, yellow, orange, blue, and black self-adhesive stickers into a large, overlapping flower-like formation on the wall. The piece has a kaleidoscopic effect; you lose track of the individual stickers as you try to absorb the intertwining, shifting colors and patterns. The piece hints at urban clusters, crowds of people, or even more "unruly gathering masses."[3]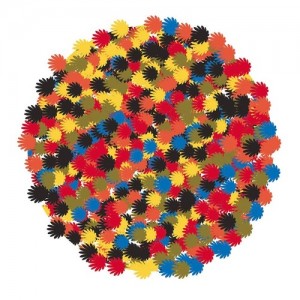 Hu Yun's piece Another Hundred Years, 2012 examines the "rationing of time" in consumerist culture by using a 35mm slide projector to display a series of time-related slogans from advertising and packaging materials. Slogans like "12 hours protection," or "intensive 7 days," simultaneously presuppose our personal futures and future profits.[4]
The intimacy of the gallery space intensifies the relationships between pieces, helping the viewer contemplate a future time when physical, cultural, and political distances may be more easily traversable.
---
[1] Cross-Strait Relations exhibition catalogue