Can You Run as Fast as Ryan Hall? It's the Asics Ryan Hall Treadmill Challenge!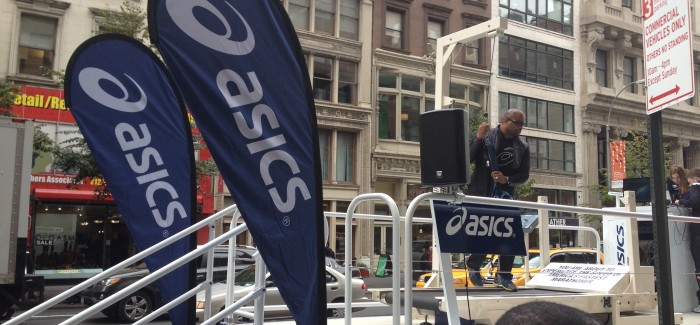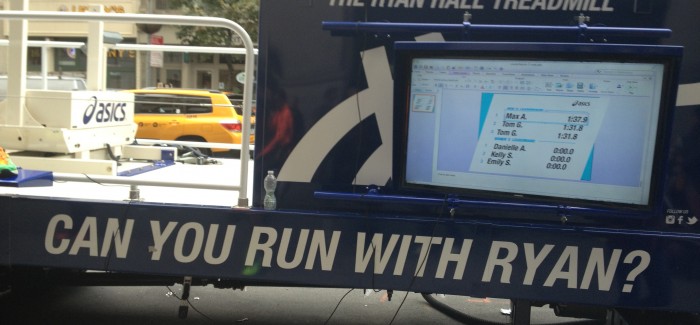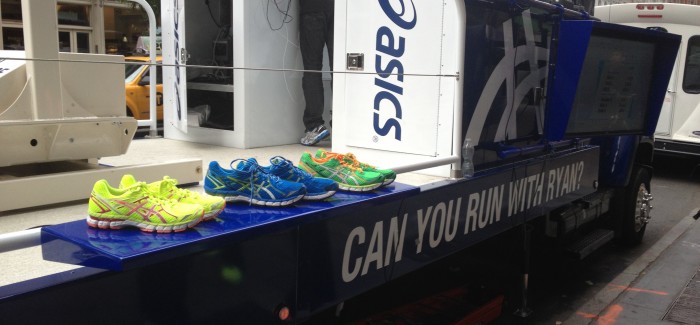 By Tod Shapiro and the Flatiron Hot! News Editorial Staff
I thought I was moving fast Wednesday morning, heading to work west down 23rd Street, past our beloved Flatiron Building, as I approached the office of NYC Seminar and Conference Center and Flatiron Hot! News at 71 West 23rd – but little did I know I would get a chance to prove it!  The Flatiron District and our little piece of it right by Madison Square Park has become the locus of all sorts of terrific promotional events. Leading sneaker and athletic footwear vendor Asics – the proud sponsor of the New York City Marathon – wants to know if you can keep up with the pace of the great Ryan Hall himself.
How to do it?  Well, simply jump up on the treadmill, all set up and ready to go on a flatbed truck right there on 23rd Street, complete with a safety harness and a digital speedometer to monitor your time and progress for the envious couch potatoes passing by. If you can keep up his marathon pace as indicated by the digital display for a fixed interval, you may qualify for a $100 gift certificate or an assortment of other fun prizes, including, of course, some spiffy Asics sneakers (please see our Flatiron Hot! News Video below).
Yours truly ran out of gas before I could even get on the truck, but I'm sure other Flatiron and Chelsea residents will relish the challenge and there are three more chances to try coming up in the next few days.  Next up for the Ryan Hall Treadmill Challenge – the Time Warner Center at 60th Street and Broadway from 1 PM to 9 PM on Thursday, 10/31; the Asics store at 6th Avenue and 42nd Street on Friday, 11/1 and then finally in Central Park, hard by the venue of the NYC Marathon itself, at 58th Street and 7th Avenue.  Good luck!