Flatiron Hot! Critic: Halloween in Flatiron and Chelsea – A Trio of Spooky Events for all you Ghosts and Goblins!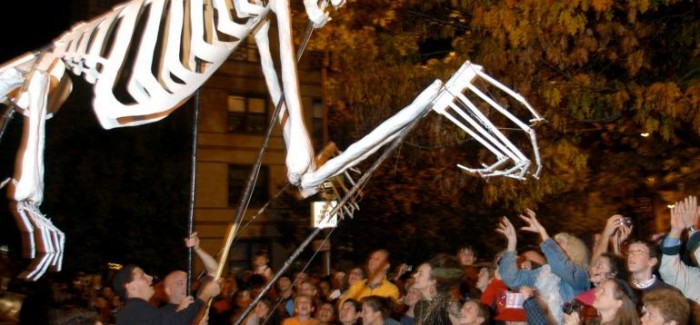 It's Halloween in Flatiron District and Chelsea, so of course the Flatiron Hot! News staff wants to remind everybody to take advantage of the spooky fun and games right in the neighborhood with these last-minute suggestions.  As the ghosts, ghouls, and goblins prepare to stride our local streets, our staff came up with three surefire events that we can all enjoy.
First, make sure you take some time to view the NYC Halloween Parade – it's always a spectacle as New Yorkers dress up and parade down 6th Avenue for all the world to see!  This year, the parade starts around 7 PM and runs to 11 PM and all are invited to show off their costumes and masks to the crowds.  The crowds will form at 6th Avenue and Spring Street, and then form a procession up Sixth Avenue going north until 16th Street – all revelers are welcome to join the parade.  The occasion will be covered on television, of course, on  channels NY1 and KPIX.  For your reference, here's a handy map to make sure you pick a good spot:
Another fun option is at the restaurant Pepela New York which is hosting a fun and fabulous Halloween party at its digs at 104 East 30th Street – the European-Georgian restaurant gets the festivities going at 8 PM, and it will extend to the late night hours.
Finally, for those wanting to imbibe some suitably spooky wine and spirits, Vino Fine Wine's will be hosing a free Ty Ku Sake tasting from 5:50 pm to 8:30 PM at their storefront at 121 East 27th Street – the perfect opportunity to put you and your friends in the trick-or-treating mood.  Don't miss it!
To everybody – happy trick or treating!