A Quick List: Great Holiday and Black Friday Deals in Chelsea, Flatiron District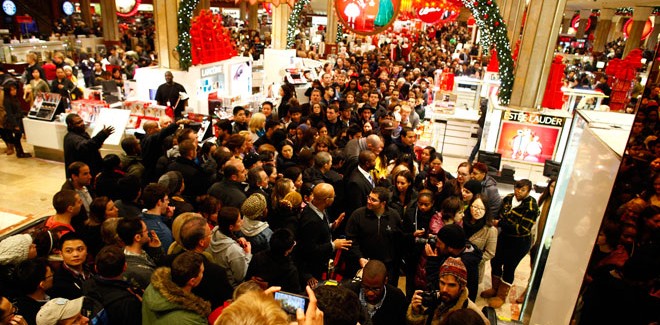 Barnes & Noble
5th Avenue and 18th Street
A few years ago, Barnes & Noble celebrated Black Friday by offering deals on books, DVDs and CDs. Now, with print media on the decline, tablets & e-reader's like Kindles and B&Ns own NOOKs are all the rage. And lucky for you, Barnes & Noble will be offering the latter for $59, a steep drop from its usual price of $100. If interested, you'd best hurry; the discount only applies on Black Friday while supplies last. For all of you troglodytes who prefer archaic paper books to e-books, rest assured that Barnes & Noble will offer plenty of great deals for you as well: namely, 50% off 50 great books. In case that's not enough, take advantage of 50% off on select children/teen books, as well as hundreds of DVDs and Blu-rays. All of the aforementioned deals (with the exception of the NOOK discount) apply from 11/23 – 11/26.
Here's a link to Barnes & Noble's Black Friday Sale advertisement.
Best Buy
23rd St. and Sixth Ave.
In the days leading up to Black Friday and following Black Friday, Best Buy will offer a spate of great deals on all manner of electronics. You can save hundreds of dollars on name brand TVs, laptops, cameras, sound systems, iPods/iPhones, video games, cellphones and much more. The best thing about Best Buy's plethora of deals is that new products go on sale on different days, giving you an incentive to stay updated on all the latest offers.
Burlington Coat Factory
Sixth Avenue between 22nd & 23rd Streets
Despite its name, Burlington Coat Factory does not only sell coats (although those it does offer are of fine quality). It also boasts a selection of other items, including numerous articles of clothing for adults and children, toys, household appliances and kitchenware. You can also get your hands on several different types of discount cards. For example, all completed layaways picked up by 12/24/13 net you $5 off of any purchase. The same deal applies to any gift card you purchase. Finally, if you're feeling charitable from November 1st to January 20th, provide some holiday warmth to the less fortunate by donating a gently-worn coat for a discount of 10% off your entire purchase.
Click here for more details Burlington Coat Factory's Black Friday Deals & Discounts