Help Out the Hungry in Flatiron with City Harvest Food Drive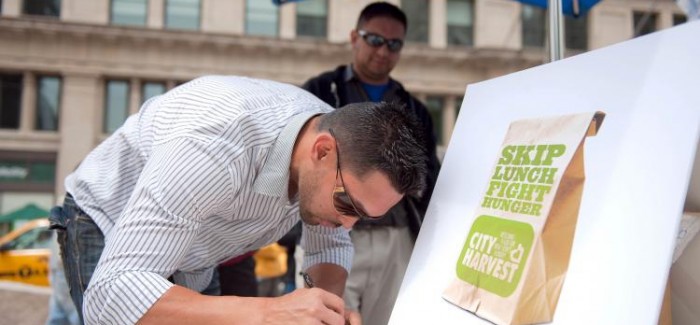 Above, former Mets center fielder Angel Pagan makes a donation in the Flatiron. Photo courtesy of The Epoch Times.
It may be the holidays, but that doesn't mean everyone is basking in holiday cheer. Even as we gather with our families to enjoy a decadent Christmas feast (alas, Hanukkah has already come and gone), many of our fellow New Yorkers, whether homeless, unemployed or underpaid, are not so fortunate. They cannot afford to feed themselves and their families, much less buy lavish gifts. Charities, while helpful, can only do so much – without our help.
This's why City Harvest has launched food drives to help feed the hungry all across New York City. Flatiron residents can do their part on Thursday, December 18th, as part of the event series "23 Days of Flatiron Cheer." In partnership with Flatiron 23rd Street Partnership, City Harvest has set up a donation booth at Flatiron Plaza North on 23rd Street and Broadway. From 9:00 AM – 5:00 PM, you are invited to donate a wide variety of foodstuffs (see donation guidelines) and walk away with a modest prize as thanks for your contributions.
Click here to find out more about City Harvest and learn how you can help fight hunger in New York City communities.