Greensquare Tavern to Host Lauren Slayton Book Signing on Tuesday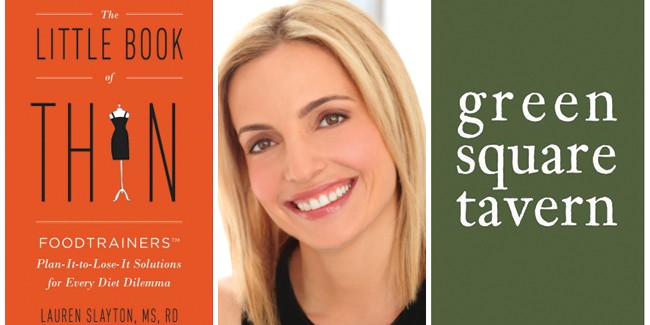 On Tuesday, January 14 from 4:30 to 6:30 PM, Lauren Kaplan Slayton MS RD, author of The Little Book of Thin: Foodtrainer's Plan-It-to-Lose-It Solutions For Every Dilemma, will attend a book signing at Greensquare Tavern. Guests can enjoy snacks and custom-made cocktails inspired by Slayton's book and are also invited to book a reservation following the event to "keep the party going."
It is easy to see that Slayton and Greensquare are a match made in culinary heaven. Located at 5 West 21 Street right here in the Flatiron District, the Greensquare Tavern takes pride in its farm-to-table and locally sustainable organic ingredients, prepared by Chef John Marsh.
Flatiron Foodie – Greensquare Tavern Offers Farm-to-Table Dining in Flatiron District
Slayton is the founder of Foodtrainers, an organization that offers nutrition sessions for individuals interested in improving their dietary habits in a way that always feels natural and never forced (click here for testimonials). The Little Book of Thin is the culmination of years of research and hands-on experience, rejecting a one-size-fits all approach to nutrition in favor of tailoring different dietary regimens to different lifestyles. With its focus on providing a varied organic cuisine for a diverse range of tastes, Greensquare Tavern is the ideal venue for a Slayton book signing.