Guilty Goose: A Choice Gastro Pub With a Rich History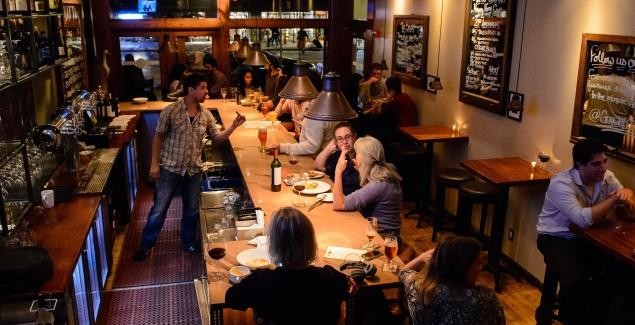 Google Guilty Goose and the first thing you'll notice is that it's boldly advertised as "the best restaurant in Chelsea NY." While this statement may seem like marketing hyperbole, the historic gastro pub, located at 131 West 23rd Street, can certainly make a persuasive case for its greatness. Combining New York City's rich history with a distinctive, contemporary flair, Guilty Goose offers food menus filled with classic dishes, all enhanced with modern touches.
Flatiron Foodie: Greensquare Tavern: Farm-to-Table Selection in Flatiron District
Dining highlights include a beet and goat cheese salad, exquisitely seasoned red snapper and burgers topped with white cheddar, sherry onions and pickled vegetables – and that's only the tip of the iceberg. It also boasts a drink menu packed with first-rate beers and wines in place of the same old staples. Guilty Goose gives customers the choice of eight beers on tap and many more craft beers sure to satisfy even the most selective connoisseurs.
Guilty Goose is unmistakably a product of old Chelsea, with window frames dating back to the neighborhood of yesteryear. Epitomizing Guilty Goose's devotion to showcasing its rich history is a photograph of the building that showcases the materials from which it was constructed, including reclaimed copper from an old Philadelphia armory. And then, of course, there is the bar itself, which its website describes as "a Nevada stone bar, resting on reclaimed amber glass salvaged from a factory."
Flatiron Foodie: Kipsey's Brings Choice Comfort Food, Bountifal Bar to Kips Bay
Guilty Goose isn't just somewhere to eat and drink, although it does not lack plentiful options in both departments. It is also a snapshot of New York City history that customers can delve into if they so desire. Or, of course, they could just sit back and enjoy the atmosphere. The best restaurant in Chelsea? We'll leave that up to you, but rest assured you will not leave Guilty Goose disappointed. Oh, and don't forget to say hello to mascot Gladys the goose! She only pecks when you get handsy.
Flatiron Foodie: Parea Prime Offers Dry Aged Steaks & Mouth-Watering Mediterranean Cuisine