The Storehouse Bar: Where Simple & Friendly Help the Drinks Go Down Easy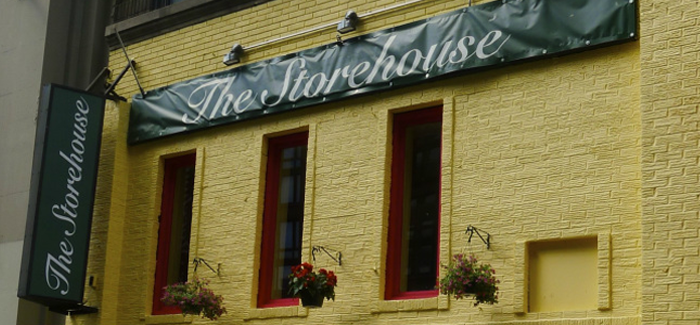 The Storehouse, located at 69 West 23rd Street right in the heart of the Flatiron District and Chelsea, is a breath of fresh air. New York City abounds with "gimmick bars" that smack you in the face with ideas or themes that are not nearly as clever as their owners think. Sometimes you just want a classic, no-frills establishment with a pleasant atmosphere that gets all the basics right: friendly bartenders, great grub and an engaging clientele. The problem is, without such "attractions" as dancing leprechauns and zany color schemes, how do you know which ones are worth checking out? Reading Flatiron Hot News is always a safe option, but sometimes you can just tell.
To start with the basics, the Storehouse has both a "downstairs" and an "upstairs" – one primed for casual drinking and friendly banter; the other ideally configured for some serious sports spectating. The downstairs bar space is warm, friendly and welcoming, consisting of a spacious bar and ample seating at both standard and raised tables. Attendees can watch sports games of their choice on three 42 inch screens behind the bar. Come at happy hour, from 3:00 PM – 7:00 PM, for the best deals.
The Storehouse offers an extensive menu of snacks and meals cooked to order, transcending the mediocre, overpriced food that you'd find at many pubs. The quantities are more generous, the ingredients are fresher, the service is quicker and the dishes are more diverse. Service is fast even on the busiest nights. Meanwhile, the employees strike that crucial balance between social and attentive. They're always game for some banter, but never at the expense of good service for waiting customers.
While receptive to fresh faces, the Storehouse has a loyal crowd of regulars, some of whom have frequented the bar for decades, through its various incarnations. That said, the clientele is always welcoming and never insular; newcomers will immediately feel at home, whether they are looking to mingle or just enjoy a pint. Wednesday's Trivia night provides the perfect opportunity to get to know the staff and clientele and, if you've got what it takes, win $100.
For area businesses in Flatiron and Chelsea, including the NYC Seminar and Conference Center right next door at 71 West 23rd, it makes the perfect place to kick back, have a drink and shoot the shit with some new and familiar faces. Identifying a great bar is not just a matter of observing what's tangible. A great bar also has to feel right. We can say with confidence that the Storehouse meets both criteria.