Flatiron Foodie: Pergola Restaurant Offers Mediterranean Cuisine With a Distinctive Twist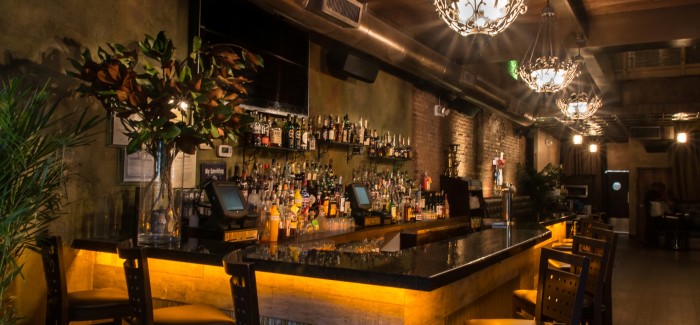 When you go to a restaurant that just opened, sometimes you're taking a gamble. After all, how can you assess its quality when it's only been in business for a short time? In the case of 
Pergola
, a Mediterranean restaurant that opened on January 11th in the Flatiron District at 36th West 28th Street, you have no cause for concern. In fact, as you'll see, eager anticipation is far more appropriate.
Recently featured on CBS-TV's "Toni on New York"
Pergola already boasts glowing reviews from prestigious blogs and publications, including the
Village Voice
, Joonbug,
Gotham Magazine
and Fashion Style.com, to name just a few. With personnel such as owner Mohammed Abdel and Executive Chef Nestor Moina, a veteran of acclaimed Midtown establishments 
Remi Restaurant
 and 
Nerai
, it's easy to see why. Moina's culinary portfolio consists of Greek, Turkish and Middle Eastern cuisines, blending innovation and tradition into something that stands out among New York City's glut of Mediterranean offerings. Both vegan and non-vegan options are available. To keep things fresh in terms of both ingredients and variety, Pergola has different menus, drinks and botanical decor tailored to each season.
Before patrons even catch a glimpse of Pergola's entrees, they can partake of a diverse assortment of appetizers, including mezze platters arranged so artfully that you'll almost regret disturbing them. Traditional Mediterranean palate-whetters like hummus, tzatziki, stuffed grape leaves and tabbouleh commingle with more unexpected choices like pergola wings and crab cakes. Appetizers vary in price from $8 to 12.
The entrees are similarly varied and scintillating. The chicken and steak kabobs are sublime, charred just the right amount to get that perfect texture. The falafel-crusted wild salmon and grilled prawns are a gift to seafood lovers, cooked to perfection with a distinctly Mediterranean flair. The macaroni bechamel, prepared with penne, lamb ragu, mozzarella, parsley and Parmesan, is like nothing you've ever tasted. And then, of course, there are Middle Eastern staples like kofta and shwarma. Those seeking variety in their meat can order the Pergola mixed grill. All these options and more merit second, third and fourth trips to the restaurant so you can try more.
Pergola's signature cocktail selection, put together by "mixologist" Scott Fitzgerald, is equally inspired. Highlights include the Jalisco Rose (Reposdado Tequila shaken with amber agave, apples, rosemary and lime juice) and Spearment 75 (vodka with lemon, torn spearmint, agave, lemon rind and a splash of Prosecco) and Lavender-Lime Collins (gin with lime juice, Luxardo maraschino and lavender-violet liqueur topped with soda and a mint bushel of thyme). Happy hour is on Monday through Friday from 5:00 PM to 8:00 PM.
What better time to delve into cocktails, each with its own personal touch? But don't just take our word for it – see for yourself in this 
brief video
.
Of course, food and drinks aren't the only factors that contribute to a restaurant's appeal; it also has to be the kind of place where you want to sit down and eat. Fortunately, Pergola's setting matches the quality of its menu. The restaurant consists of multiple levels spanning 3,700 feet. As their names suggest, the Sun Room, the Shade Room and the ground floor offer completely different atmospheres.
Hookah enthusiasts take note: for $15, you can choose from a wide selection of flavors including apple, orange, guava, grape, berry, mint and blue mist (what's blue mist?–it's supposed to be a mystery, silly), while simultaneously enjoying quality food and cocktails. We suggest that you come at happy hour, because there's nothing like pairing hookah with discounted drinks. Except maybe paring it with snacks of a far higher caliber than what you'd find at most ordinary hookah bars. During dinner hours, hookahs are confined to the upstairs lounge out of respect for patrons who prefer to dine in a smoke-free environment.
It's rare that a new restaurant can establish an impeccable reputation within weeks of its opening. Pergola pulls off this feat with aplomb; it has that "it" factor, a convergence of quality and personality that makes it special. Of course, the presence of a skilled chef with decades of experience and distinctive culinary style doesn't hurt. But as you may remember us saying, the true measure of quality is intangible. It's the impression one gets when all of the ingredients coalesce into a dish that amounts to something greater than the sum of its already-sterling parts. In case you haven't guessed, Pergola is that kind of place and we expect it to be a beloved fixture of the Flatiron District for years to come.