Israeli-Palestinian Debate Erupts at Chelsea Community Meeting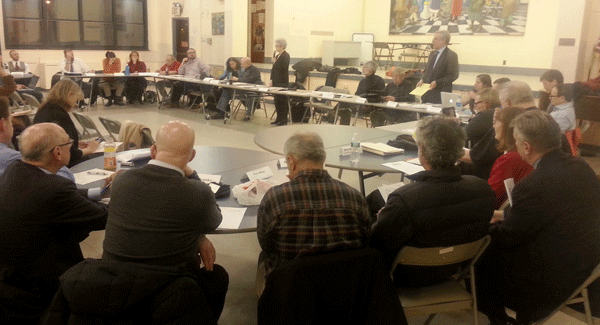 On Wednesday, March 5th, Community Board 4 (CB4) Chelsea Now's apt title of "Speedy CB4 Meeting Delivers." convened at the Fulton Center at 119 Ninth Avenue between West 17th and 18th Streets. Chelsea Now reports that issues covered included support for business diversity, news from elected officials such as City Councilman Corey Johnson and traffic control.
Corey Johnson Conducts Stirring Q&A in Flatiron District (Video)
For the most part, everything went smoothly. However, at one point during the proceedings, tempers flared over an unlikely topic: the Israeli-Palestinian conflict. Tensions arose when ten members of the New Yorkers Against the Cornell-Technion Partnership (NYACT) addressed the audience. Closely affiliated with the BDS (Boycott, Divestment, and Sanctions) National Committee, the NYACT voiced their opposition to a partnership between Cornell University and Technion Israel Institute of technology. The universities plan on establishing an educational facility on Roosevelt Island.
Paid Sick Leave in New York: What Employers and Employees Should Know
NYACT addressed CB4 because of its proximity to Google's offices at 111 Eighth Avenue, which does business with Cornell NYC Tech. Terri Ginsberg read from a prepared speech:
"The Technion is directly implicated in war crimes…specifically by designing military weapons and developing surveillance technologies, drones, deployed to drive Palestinians off their land…By formal association, then Google [which is hosting Cornell NYC Tech until its campus is constructed], Cornell and New York City are implicated in war crimes and other crimes against humanity perpetrated by Technion and its affiliates."
Brett Firfer, a CB4 member, took the microphone to offer a scathing response: "One of the main messages that we learn in the holiday Purim is that time and time again, we have our enemies that rise up against us but somehow we prevail. We see this happens constantly,"
In a theatrical flourish, Firfer snapped an impromptu photo of the NYACT members, declaring: "I'm going to call that the modern face of anti-semitism." Concluding his remarks, Firfer labeled the organization as. "an organization that likes to tell people that it's critiquing the policies of the state of Israel, but in reality its message is to critique legitimacies against the state of Israel… We have a saying, 'Those who are kind to the cruel in the end, are cruel to the kind.'"
After Firfer's speech, CB4 moved on to other matters, but the controversy didn't end there. Terri Ginsberg subsequently complained that she had been cut off and given less time to speak than Firfer.
Thanks to Chelsea Now for their coverage of the CB4 meeting. We encourage you to read their article for details on the rest of the discussion. Photos are also courtesy of Chelsea Now.