Center for Book Arts Exhibit Showcases Sublime Symmetry of Books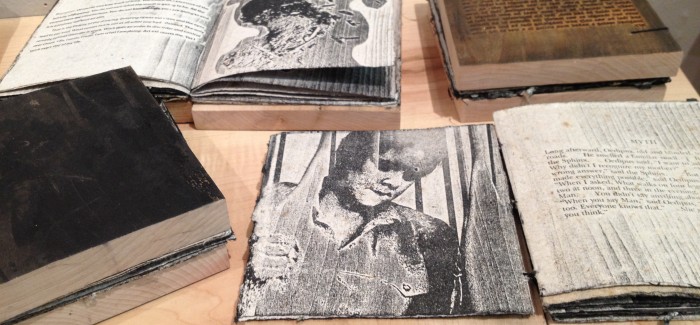 On

March 20, 2014

http://flatironhotnews.com
The Center for Book Arts is a hidden New York City gem. Located in Chelsea, a stone's throw away from the Flatiron District at 28 West 27th Street, the Center is discreetly tucked away on the 3rd floor where the intimate studio, store, and gallery quietly thrum with staff and visitors. The main exhibition now on display, Silence Unbound: The Artist's Lexicon in the Making, runs through March 29th and features artists who have incorporated their works into book-like designs.
Visitors are invited to flip through several of these pieces, which makes for a satisfyingly visceral experience. One such piece is "40 Books," (2012) by Kristen Tordella-Williams. "40 Books" includes nine laser-etched woodblock prints on handmade paper, displayed on a maple shelf, with the wood blocks serving as the book covers. Holding the thick slabs of wood in your hands literally gives weight to the words and images in the books. One wooden block is covered with etched words that you can run your fingers over. The combination of textures adds another element of beauty and the grain of the wood compliments the grainy patterns evident in the prints. The handmade paper, slightly thicker than typical paper, is also grainy with pinkish beige and warm brown flecks. One of the books has a handprint, the subtle lines and curves of which make the print quite intimate. Next to the hand, the text reads "Made in U.S.A. Printed in U.S.A."
Another featured piece, "Historias Intimas (Intimate Stories)," by Jessica Lagunas first came to be when the artist asked her grandmother to describe the first time that she menstruated. Her grandmother was too embarrassed to tell her, so instead she wrote her a letter. During 2009, Lagunas received 25 letters from her female family members, each describing her own intimate menstrual experience. The letters are bound with red ribbon and arranged in a red clamshell box next to the red hand-made book that Lagunas crafted and which contains typed versions of the letters. The book, with elegant red ribbon running through the spine, was bound at The Center for Books Arts in 2011.
Also included in the exhibition is work by artist Barbara Rosenthal, who lived in the Flatiron District for 25 years. Since she was 11 years old, Rosenthal has kept more than 70 journals, 12 of which are on display, with both text and drawings. Rosenthal's collection of 41 electrostatic prints "Homo Futurus Wall Work" (1986) spans a wall of the exhibition and features a wide array of text, news articles and photos, some as controversial as "Boy Raised by Wolves in Indian Jungle" and "Infant was Raped." Rosenthal works within the fields of surrealism and existentialism and is known for using herself to explore what it means to be human. A book accompanies the wall work in the exhibition. Rosenthal will deliver an artist talk at The Center for Book Arts on Friday, March 28th at 6:30 p.m. along with Dean Ebben, another artist featured in Silence Unbound. The suggested donation is $10.
Whether or not you can make it to the reading, strolling through the gallery makes for a relaxing afternoon. Silence Unbound was organized by Heather Powell. Other featured artists include David Hammons, Candace Hicks, Christopher K. Ho, Jenny Holzer, Alison Knowles, Matthew C. Lange, Dani Leventhal, Buzz Spector, and Emily Speed.
Gallery is open Monday-Friday 11am-6pm
and Saturday 10am-5pm. Admission is free.