NYC Seminar Center Offers Flatiron District On-Line Booking & Payment with Happy Desk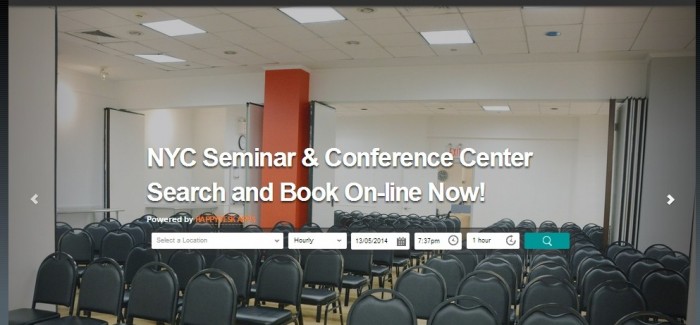 Reported by the Flatiron Hot! News Editorial StaffOur friends at Flatiron Hot! News' corporate sponsor, NYC Seminar & Conference Center, are excited to report that NYCSCC's website now employs Happy Desk's Apps for real-time, secure on-line booking of its value conference and meeting rooms.  No need to talk with sales staff; you can do it on your own 24/7 if you need a conference room or event space on short notice.  Select the Book and Pay On-Line link at any time of the day or night to reserve your space via HappyDesk Apps' handy shopping cart application.  Complete the on-line forms with your basic information, and you can go ahead and pick your room (hourly or daily rates), schedule your time and date, and then your payment method. NYCSCC accepts Visa, Mastercard, Discover and American Express. You will receive immediate confirmation of booking and payment by e-mail. All relevant terms and conditions, amenities, booking policies, and cancellation terms are clearly displayed during the process for your inspection before booking.

Should you require space for larger or more ambitious events, NYCSCC patrons can consider the auditorium and banquet facilities at the Chelsea headquarters. For those options, simply fill out the on-line inquiry form, stop by for a site visit, or feel free to call the sales and event planning staff at 646-336-4455 or toll free 800-326-5494. NYCSCC offers value spaces for all kinds of events at competitive prices.  Definitely a resource for Flatiron and Chelsea businesses to keep in mind.