Scabby the Rat Protests Workers' Mistreatment at Darden's Olive Garden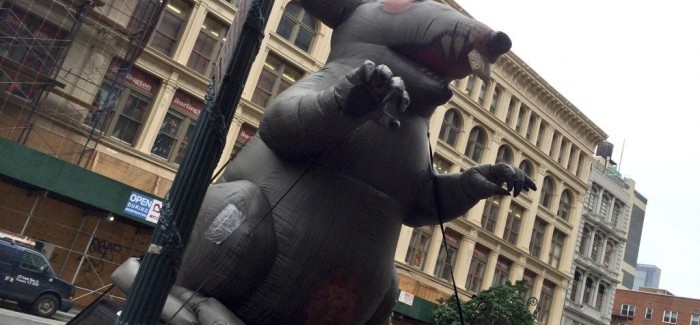 In a time of ever-growing inequality, labor unions are one of the last lines of defense against mistreatment of workers by businesses large and small. This is the case even in liberal havens like New York City, home to powerful corporate and financial interests that seek to maximize profits by any means necessary, even at the expense of the health and fair compensation of average, hard-working New Yorkers. Fortunately, Scabby the Rat is on hand to draw pedestrians' attention to businesses that unions accuse of violating wealth and wage standards. According to flyers distributed in front of an Olive Garden location on 22nd and Sixth, right in the Chelsea/Flatiron area, Olive Garden is one such offender. Union allegations are directed specifically at an Olive Garden location at 92-50 59th Ave. in Queens, NY, although they may apply more broadly.
The CEO of Darden Restaurant Group, which owns several chains including Olive Garden, Red Lobster and Outback Steakhouse, rakes in $8.5 million a year. His employees allegedly make as little as $2.13 per hour in salary, far below minimum wage. These employees must rely on voluntary tips, based on a loophole that allows food businesses to avoid paying their employees minimum wage. All too often, tips are not sufficient to make up the difference. The Darden Restaurant Group also reduces the hours of already-underpaid workers to avoid paying for their healthcare. In a further attempt to cut costs, Darden relies on "untrained and unskilled" construction workers, resulting in an environment that is unsafe for workers. If these allegations are accurate, an inflatable rat outside of an Olive Garden location is a small price to pay for these flagrant abuses of those who dedicate their lives to keeping the franchise alive.
All are invited to call Darden at (407) 245-400 to "tell them all workers deserve a fair wage."