Mad Sq. Kids Thrills Tykes with Summer Concerts – Rabbit Days and Dumplings this Thursday AM!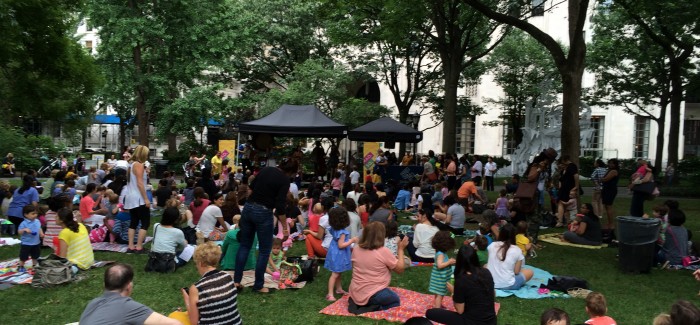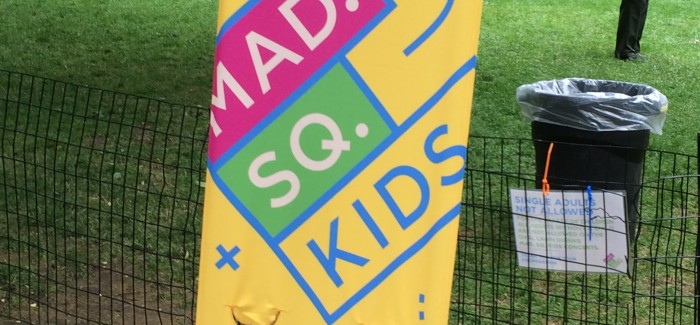 By Tod Shapiro and the Flatiron Hot! News Editorial Staff
An early morning stroll through Madison Square Park revealed the happy sounds and sights of children frolicking and singing – it can only be that time of year again for the wonderful Mad. Square Kids program!  Our friends at the Madison Square Park Conservancy have a full schedule of concerts, games, and other fun activities via "Mad. Sq. Kids" for another summer season. Today it was the hot (but free!) ticket of "Rabbit Days and Dumplings" on the greensward.  The strollers were lined up bumper-to-bumper for the occasion, and the kids were dancing right up to the stage in sync with the melodies.  The program runs from early June through mid-August with a variety of acts. Coming up soon will be such kid-friendly acts as Joan Leeds and the Nightlights (June 24), Lucky Diaz and the Family Jam Band (June 26) and Alastair Moock and Friends (July 1).  Click here for the rundown of 2014's exciting schedule.  Judging by the reaction of the kids, it will be a winner again this year. Check out this quick sampling of the fun and games that the Flatiron Hot! News Staff was able to pull together.