Flatiron Biz VenueBook Offers Cloud-Based Scheduling, Management, Marketing for Event Venues – "Open Table" for the Event Venue Sector?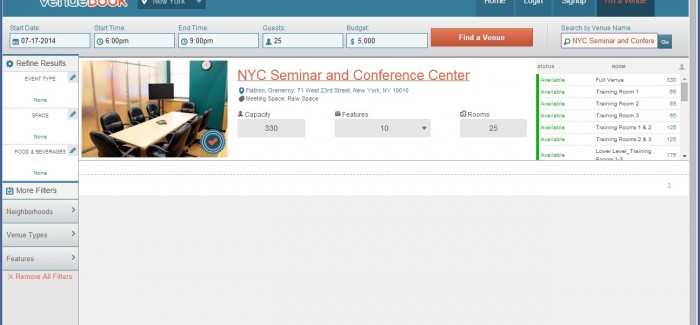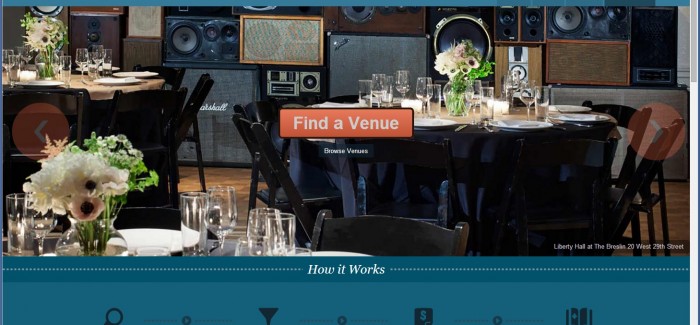 By Eric Shapiro and the Flatiron Hot! News Editorial Staff
The event industry has been among the slowest to take advantage of the opportunities inherent in digital technology. However, the past few years have seen a revolution in event planning, with online and in-house software transforming the industry as we know it. Services like Cvent, Eventbrite and Open Table have transformed the industry, setting the stage for boundless innovation in an area that had become stagnant.
VenueBook, a startup company that went live in the spring of 2013, has already carved out a niche in the ever-expanding pool of digital booking services. Located in Union Square and in close proximity to the Flatiron District – two neighborhoods widely known as hotbeds of technical innovation – VenueBook is already well on its way to becoming a premiere digital booking service. Founder Kelsey Recht, a Huffington Post blogger with years of experience in the business world, describes the VenueBook concept as "Open Table for private events." This description, while apt, only scratches the surface.
While a number of digital booking tools already exist, VenueBook fills a vital, unoccupied niche. "Most competitors try to emphasize lead generation  while purportedly helping the venue  manage its operation and scheduling – what is delivered is often less than what is promised ," she explains. "Venue Book covers the whole spectrum without compromising in effectiveness on either . We believe you need to be both the best booking platform for event planners and the software that the venue is managing. That creates the most seamless and best user experience on all sides."
This open-ended, collaborative system is geared towards current and aspiring tech-savvy event planners.   And of course, the entire app is entirely Cloud-based – and designed and built from the ground up to make the most of state-of-the-art Cloud technology best practices. It truly allows an event venue or conference center to run both its web marketing and nuts and bolts operations entirely in the Cloud without any compromises, for a flat monthly fee with reasonable commissions.  This includes the best possible security for credit card payments, confidential client information, and secure storage and off-site backup of all the mission-critical data.
Despite its cutting-edge digital focus, VenueBook does not seek to replace the all-important "human touch." Rather, VenueBook frees up venues to focus on what they do best: sales and quality of service. "As a venue, you shouldn't have clients calling you to ask about the capacity of a room ask whether a date is available," says Recht. "Our goal is to free up venue managers to do value added work that no computers can do." VenueBook has allowed them to decrease booking time and grow their revenue just by converting leads more efficiently, so that some have actually expanded their in-house events team because return on investment of every additional person is now worthwhile.
Of course, assisting venues is only half of the equation. In keeping with its goal of being what Recht describes as "the industry's only end-to-end solution," VenueBook provides access to venues of all kinds including but not limited to restaurants, clubs, bars, meeting spaces, corporate conference centers, hotels, loft spaces and galleries. In the Flatiron District alone, VenueBook works with companies such as the New York City Seminar and Conference Center, the Gander, the Ace Hotel, the John Dory Oyster Bar and the Breslin.
The New York City Seminar and Conference Center was particularly impressed with the total package.  Tod Shapiro, Vice President of NYCSCC, states:  "This one cloud-based solution combines a top-notch conference center management tool, complete with real-time scheduling, as well as  an attractive and specialized on-line event venue directory targeted specifically at event planners or any prospective client that needs to book on their own account – and that means the ability to book and pay on-line, not just call or e-mail a sales rep – it can be truly self-serve.   That reflects a substantial commitment by VenueBook at marketing and driving traffic to the site via their own advertising and social media campaigns.  The return on investment for the monthly fee is a terrific value for an independent conference center such as ours "   Mr. Shapiro goes on:  "The VenueBook interface gives our sales team the ability  to send proposals and pricing out via e-mail and to communicate  with prospective clients via their browsers.  The prospective customer can review on line and modify very detailed proposals, including pricing and catering and event logistics and event payment, as part of a dynamic two-way process with our event planners.  There is really nothing quite like it that we've seen up until now."
VenueBook provides more than what Brecht calls "a pretty catalogue of venues." Its interface is simple, but allows for considerable customization; if you're not satisfied with what you find initially, simply refine your criteria. The search feature eliminates random, time-consuming searches and takes event planners directly to the best options. You can then compare each venue side by side and delve deeper by requesting quotes, viewing menus and even submitting event proposals.  Once you've settled on a venue, you can complete the booking process entirely online, with contact information available should further communication become necessary.
The beauty of VenueBook is in its accessibility and flexibility. Whether you are experienced in digital technology or looking to break in, VenueBook's streamlined interface offers a maximum of options with a minimum of hassle, freeing up time and personnel for the things only a human employee can accomplish. At its core, VenueBook is an innovative service that establishes a line of connection between event planner and venue that runs from the moment an event is booked to the time it goes off without a hitch.