Cragg's "Walks of Life" Taking Shape in Madison Square Park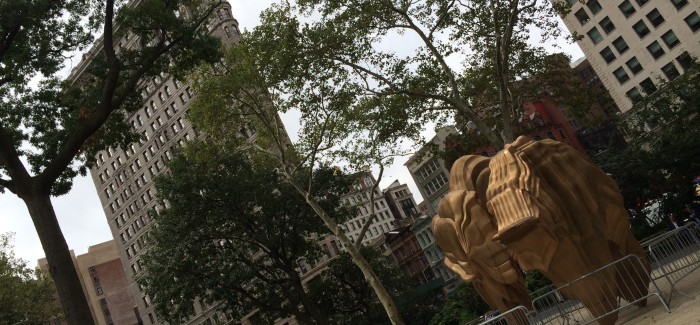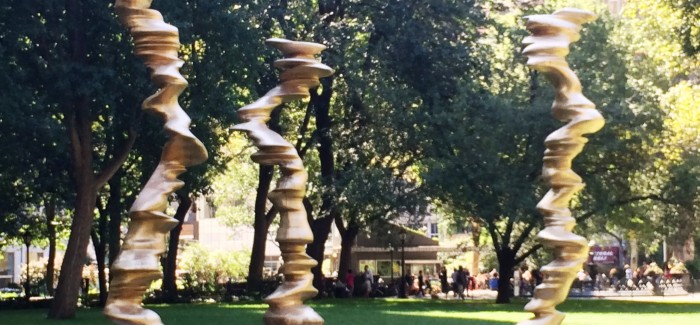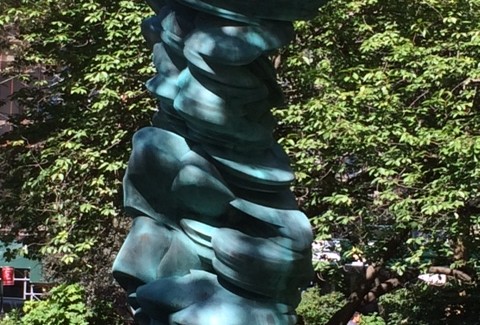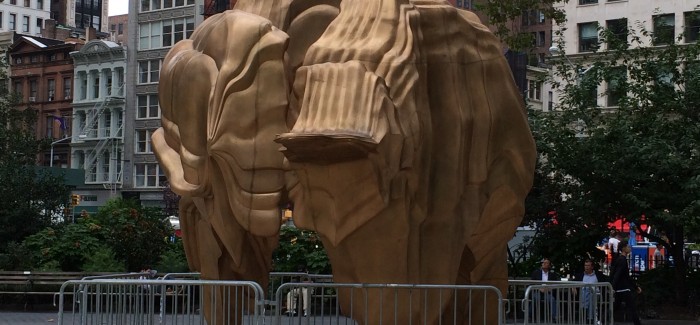 By Tod Shapiro and the Flatiron Hot! News Editorial Staff
It's always exciting to watch for the latest iteration of Mad. Sq. Art to take shape in the Park. This terrific program, courtesy of the Madison Square Park Conservancy, puts all sorts of interesting sculpture, often on a grand scale, in our Flatiron environs on a regular basis.  Tony Cragg's "Walks of Life" series of bronze monumental sculptures  is in the process of installation, as the set of three bronze, undulating, abstract shapes are being positioned, two on the great lawn, and one in the west-section gravel field nigh by the Flatiron Building.  Cragg's work fuses conceptions of abstract shapes and faces in a way that will keep you looking at these immense shapes over and over again on your way to work every morning. The three pieces each have names: "Caldera" (in the gravel field – it looks almost like a giant half-formed face); "Mixed Feelings" and "Points of View" (the two, at first glance, look like giant caterpillars or funky bronze earthworms) are adjacent to each other on the Park's greensward.  Definitely worth a quick peak on your lunch hour or on your way home.  These gargantuan sculptures will be our friends and neighbors from September 18th through February 8th – I'm sure Flatiron dwellers will come to know them well!
Below is a bio of sculptor Tony Cragg from Mad. Square Art's website. You can see the conservancy's quick overview of the new exhibit at this link as well.
Tony Cragg (b. 1949 in Liverpool; lives and works in Wuppertal, Germany) has shown internationally since the late 1970s. Recent solo exhibitions have been organized by the Lehmbruck Museum, Duisburg, Germany; The State Hermitage Museum, St. Petersburg; Nasher Sculpture Center, Dallas; Scottish National Gallery, Edinburgh; and the Musée du Louvre, Paris. Cragg's work has appeared in two Documenta exhibitions and in four iterations of the Venice Biennale. His prior outdoor work includes commissions by the Cass Sculpture Foundation, London and a permanent installation of monumental works at the Waldfrieden Sculpture Park, Wuppertal, Germany. Cragg was awarded the Turner Prize by Tate, London in 1988. He is a Chevalier des Arts et des Lettres, a Commander of the Order of the British Empire, and a recipient of the 1st Class Order of Merit of the Federal Republic of Germany. He has been honored with the Cologne Fine Art Award, Praemium Imperiale Award, and Piepenbrock Award. Cragg is the former Director of the Düsseldorf Art Academy, where he has taught since 1988. Cragg is represented by Marian Goodman Gallery, New York/Paris.