Manhattan Borough President Gale Brewer Speaks in Flatiron District at TD Bank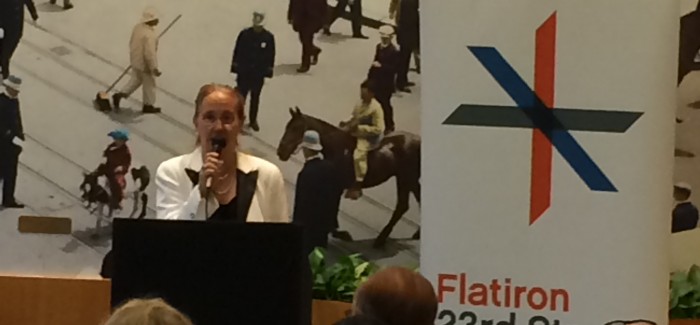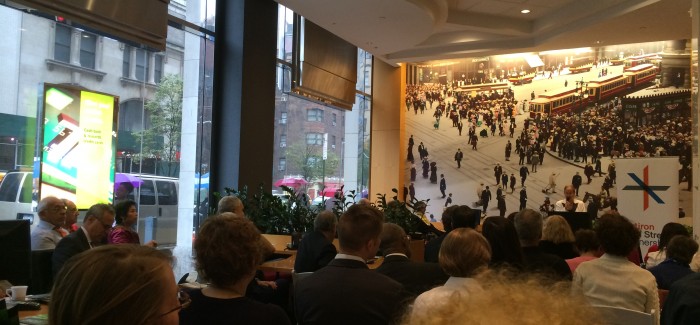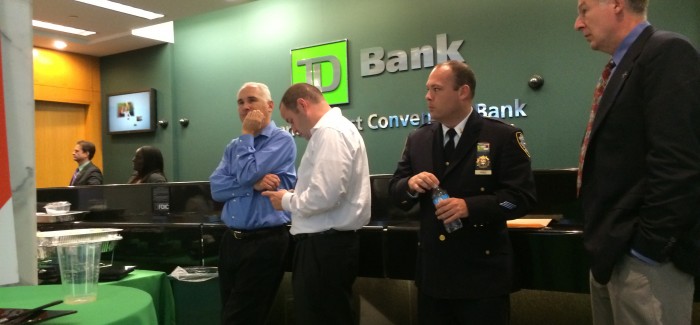 By Eric Shapiro and the Flatiron Hot! News Editorial Staff
On September 16th beginning at 8:30 AM, Manhattan Borough President Gale Brewer kicked off the Flatiron 23rd Street Partnership's fall 2014 Speaker Series. The event consisted of a speech and a lively Q&A session. It took place at the TD bank at 260 Park Avenue South and included networking opportunities along with a robust breakfast consisting of coffee, bagels, bacon, eggs, danish, fresh fruit and more. Following an introduction by Jennifer Brown, the Executive Director of the Flatiron 23rd Street Partnership, Brewer spoke on a variety of topics relevant to the Flatiron District and Manhattan as a whole.
The Beep reminisced with her Flatiron audience about how she almost accidentally got assigned to the Technology Committee when she started out in politics years ago because nobody else was interested, and how she made it her own.  She was an exception to the rule of the tech-clueless City government at that time.  Brewer went on to speak about her efforts over the years to improve the City's use of the internet, describing the many improvements in Gotham's web sites, and the tremendous buildout of wi-fi infrastructure in the neighborhoods, as well as the need for much more in that regard.  And, she praised the tremendous growth of the Flatiron District, the so called "Silicon Alley", as a mecca for high-tech companies and entrepreneurial start-ups.
Brewer then pivoted to the City's focus on education, praising CUNY as an invaluable resource and unsung "crown jewel" for New Yorkers, providing quality education at affordable prices. Brewer described her efforts to place college students, particularly those with tech backgrounds, in paid intern positions at the Manhattan Borough President's office, the Community Boards,  and "BIDs" throughout the city. She expressed similar enthusiasm for efforts to enhance New York City in a number of ways, from cultivating an appreciation of the arts to encouraging and facilitating more recycling.
Brewer heralded the upcoming release of a .NYC domain extension, which will give residents, businesses and organizations the opportunity to draw upon and spread the singular prestige of New York City. Interested parties may reserve the domain extension ahead of its inception on October 8th. Brewer also highlighted an ongoing effort to provide free, quality wi-fi access for New York City neighborhoods, including the Flatiron District. She assured the audience that the network, while spotty in places, will continue to improve with time.
Brewer showed her usual political adeptness, as she very gingerly addressed the issue of long-time small businesses being priced out of desirable neighborhoods such as Chelsea and the Flatiron District.  She invited local merchants and small business owners to submit ideas and their issues to her office for consideration.   The local press has published articles in recent days concerning possible changes to the rent laws to put small business owners on a more level playing field with their landlords.
Following a Q&A session, attendees had a chance to converse with Brewer face to face, whether to ask additional questions or simply meet a dedicated public servant.   Flatiron Hot! News staff recorded some short video clips of the proceedings which are posted below.  Overall, the Flatiron BIDs latest early-morning session was a worthy addition to its continuing efforts to serve the district.