David Cone, Former Mets and Yankees Star, Talks Baseball & Derek Jeter in Flatiron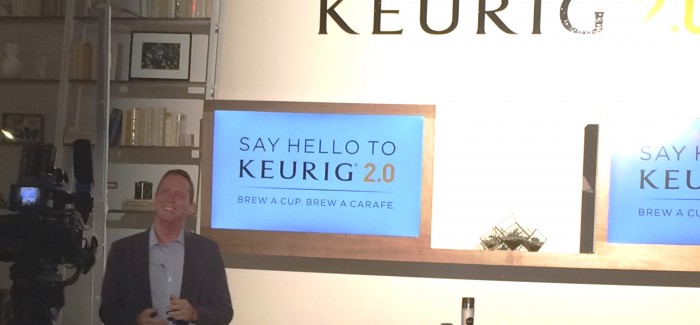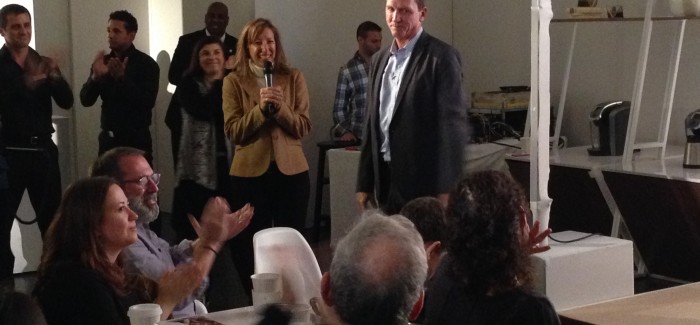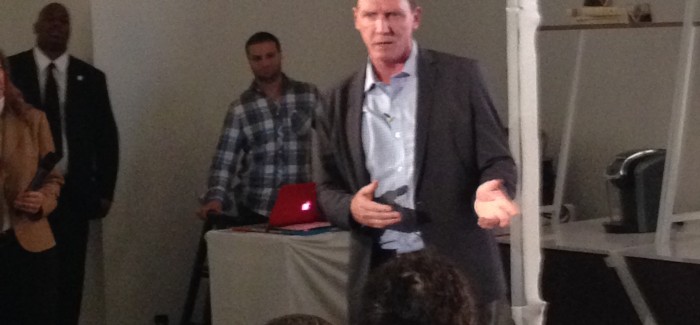 By Tod Shapiro and the Flatiron Hot! News Editorial Staff
The Flatiron District saw a homecoming by long-time fan favorite David Cone, one of the best pitchers to play for both the Mets and Yankees. He spoke at the Keurig 2.0 Cafe at 915 Broadway where the former Mets-Yankees standout was on hand to help with the roll-out of the Keurig 2.0 Hot Beverage Dispenser. A crowd of over 75 people showed up, and were eager to talk baseball with David, who had opinions on a whole set of baseball topics, to the delight of his fans.
David talked briefly about the challenge of being a broadcaster, and of having to be entertaining, informative and knowledgeable about all aspects of the national pastime.  He specifically mentioned Vin Scully and Ralph Kiner as his formative influences. He referred back to his time with the Mets as one of the most exciting of his life and of the challenges of playing baseball in New York, especially for a Kansas City boy from the Midwest. He mentioned the thrill of being managed by Joe Torre ("the best manager I've ever played with") and the quiet poise of the great Derek Jeter. He had some funny stories to tell about Derek Jeter, particularly his antics at one memorable playoff game when David was pitching against him for the Red Sox.
David, responded to a question from yours truly about the current crop of young Mets pitchers and their relative talents compared to Gooden, Darling, Fernandez and Cone. He insisted that Matt Harvey had talent that was on par with any of them and he was excited about the prospects of a rehabilitated, convalescent Harvey teaming with Rookie of the Year candidate Jacob DeGrom, Zack Wheeler and the highly-touted Noah Syndegaard. He also offered his input about why young pitchers such as Harvey and his peers seem to have so much trouble staying healthy.
All in all, a fun 45 minutes or so of baseball and PR right in the Flatiron District, as our neighborhood continues to be a mecca for PR and advertising for many product roll-outs. Thank you David Cone, and good luck to Keurig 2.0!
Here is a quick Flatiron Hot! News video clip with a taste of the proceedings: