Flatiron 23rd St. Partnership Holds 2014 Networking Event at 230 FIFTH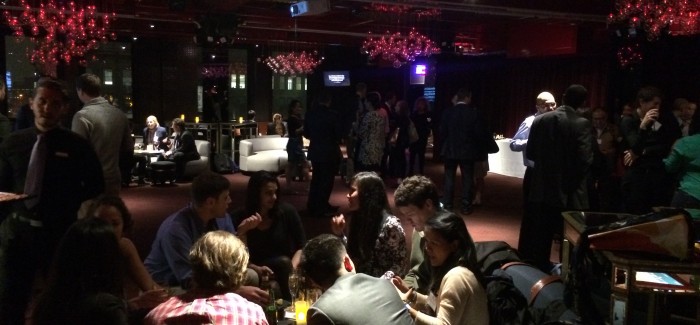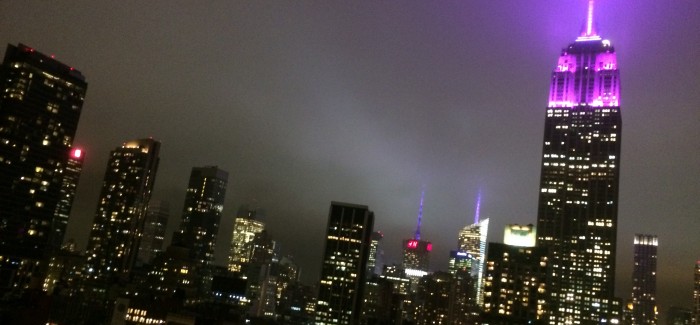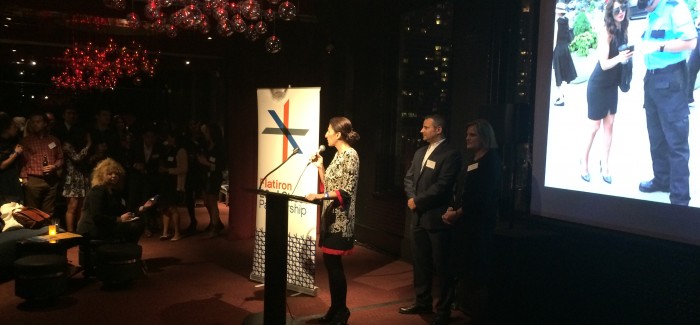 By Eric Shapiro and the Flatiron Hot! News Editorial Staff
On October 16th from 6:30 to 9:00 PM, the Flatiron 23rd Street Partnership (or Flatiron Business Investment District) held its annual Celebrate Flatiron Partnership networking event at the penthouse of 230 FIFTH. For $35, 225 attendees had the opportunity to network with members of the Flatiron community while taking advantage of an open bar and plentiful hors d'oeuvres including sliders, vegetarian spring rolls, pigs in blankets and fried shrimp. Representatives of small businesses, startups, non-profits, bars, restaurants, tenant associations and more were in attendance. The spacious and elegant penthouse boasted a stunning view of the Manhattan skyline, including the Empire State Building glowing a vibrant purple. Despite some rain prior to the event, attendees made their way to the rooftop to enjoy an even more breathtaking look at the urban landscape.
In a brief speech, Flatiron BID Executive Director Jennifer Brown discussed recent developments, including an overhaul of the Partnership's website, along with its distinction as one of the first organizations to adopt New York City's new .nyc domain name.
Some other subjects covered in Jennifer's speech included:
And finally, a bit about the BID:
The BID's many worthwhile activities in the Flatiron District, which is funded in part by taxes paid by local businesses and residents, include cleaning and beautifying the neighborhood, helping operate the public plazas adjacent to Madison Square Park and the Flatiron Building, publicizing the many benefits of the area to visitors and local businesses and their customers, and providing educational seminars and public outreach about all aspects of urban life. Last night's networking session gave the BID and its many supporters an opportunity to review recent events, compare notes about the neighborhood and stay in the loop about new projects.