Marriott-Fairfield Inn "#StayAmazing" Promotion in Flatiron Plaza Today, Tomorrow – Juggle your Way to a $500 Prize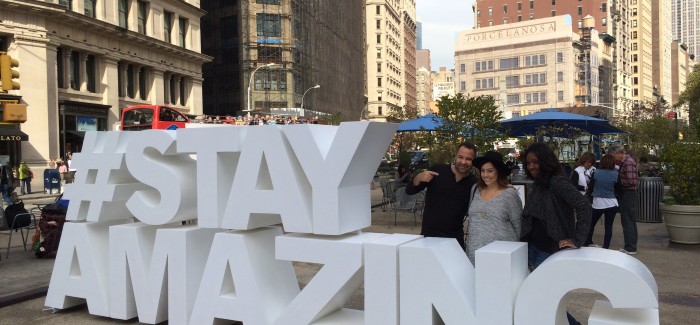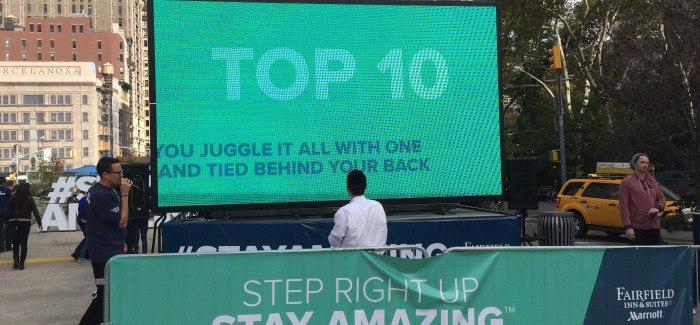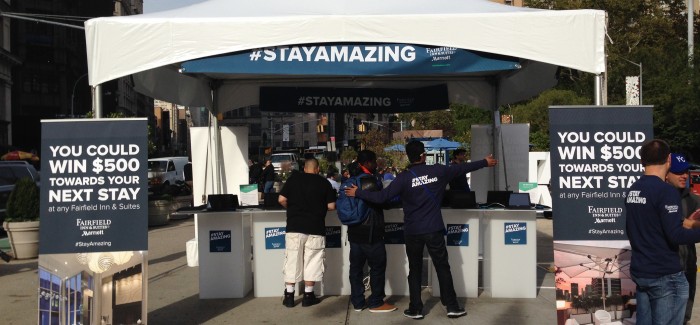 By Tod Shapiro and the Flatiron Hot! News Editorial Staff
The Flatiron Public Plazas continue to be a locus for major companies and their pet promotions. Today saw hospitality giant Marriott Corporation, in particular their Fairfield Inn & Suites Brand, set up shop in the Flatiron North Plaza with a giant, larger-than-life interactive computer screen and game and assorted tents and pavilions, complete with a "play-by-play" announcer urging bystanders on in a computer-simulated juggling session! At stake–the opportunity to qualify for $500 towards your next stay at Marriott's Fairfield Inn & Suites, as well as assorted additional goodies and prizes (in the form of "Marriott Rewards," no doubt).
In addition to the giant screen, there was a large logo of the "Stay Amazing" promotion, where Flatiron denizens can get their pictures taken and qualify for the hoped-for goodies. Take your digital shots, submit them on-line with the hashtag #stayamazing at a table with laptop computers set up for just that purpose, and you're set to go! Yours truly got a quick glimpse of several area prospects trying their luck at the game, and posing for the expected digital shots. Word has it, according to the Marriott folks, that Michal "The Joggler", the Guinness World Record-holder for running and juggling, was going to make an appearance there! Today, Tuesday, October 29th, and tomorrow, Wednesday, October 30 you have a chance to check out the fun. Take a quick peek at our Flatiron Hot! News video clip, below.
Update: See Flatiron Hot! News' Eric Shapiro discuss with Michal the Joggler what it takes to "Joggle" in the video below!