Girl Aids Parkinson's Research With Taylor Swift-Themed Viral Campaign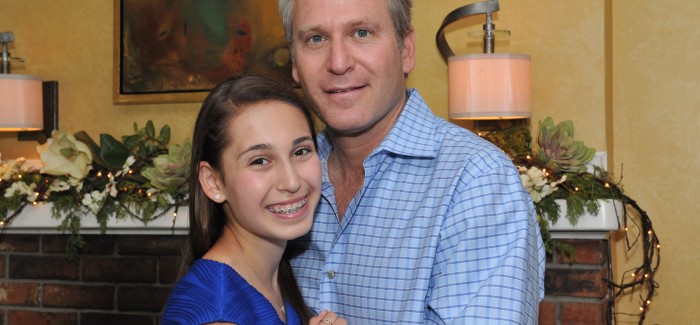 Zoe Butchen, a 14-year-old girl from Ridgefield Connecticut, could have surrendered to despair when her father Jeff was diagnosed with Parkinson's Disease on April 20, 2013 at the age of 51. Instead, she combined her philanthropic interests with her passion for dance and pop star Taylor Swift to create Dance/Shake/Donate, a viral fundraising campaign inspired by the ALS Ice Bucket Challenge.
Parkinson's is a neurodegenerative brain disorder that affects the central nervous system, causing motor and cognitive symptoms that worsen over time. Life expectancy is considerably shorter for individuals suffering from Parkinson's and is dependent in part on aggressive treatment of symptoms early on. The disease has risen to some prominence in recent years thanks in part to high profile cases such as Muhammad Ali, Michael J. Fox, Janet Reno and the late actor and comedian Robin Williams. Research is underway to find new forms of treatment and, eventually, a cure. Zoe has committed herself to this goal in a way that is as creative as as it heartwarming.
Following Jeff's diagnosis, Zoe, her mother and her brother affectionately told him to just "shake it off." When Zoe heard a Taylor Swift song with that very name, something clicked. "I'm a big fan of Taylor Swift. When I heard her song "Shake it Off" and I saw the video of everyone just dancing and having fun, I though that I could link the two and create something positive," Zoe explains. The Dance/Shake/Donate campaign asks donors to record themselves dancing along to "Shake it Off" in the style of the song's instantly-iconic music video. Although Zoe understands that Swift, whose recently released platinum album, 1989, is "a little busy," she hopes the pop star will retweet or post a link to her fundraising effort. One-hundred percent of the donations go towards Parkinson's research by way of the Michael J. Fox Foundation for Parkinson's Research.
Zoe's noble efforts have earned her recognition from ABC News, Forbes and an array of local media outlets. Since launching the effort on October 10, she has raised over $43,000. On November 22, the Ridgefield, CT town mayor closed Main Street for a huge gathering of over 1,000 people to create a VIDEO for Dance/Shake/Donate. The campaign has made it over to other countries including Holland, Canada, Israel and Australia.
Butchen has been overwhelmed by the support of her friends, family and community, who have reached out on social media, by email and in person. "Everyone has been great trying to spread the word. Many people have texted and Facebook-messaged me that they have a connection to someone with Parkinson's, which is making them want to help out even more."
1,000 Dance Shake & Donate on Main Street, Ridgefield, CT
1,000 Dance Shake & Donate on Main Street, Ridgefield, CT
On November 22, 2014, approximately 1,000 people gathered to dance on Main Street in Ridgefield, CT to Taylor Swift's "Shake It Off in support Parkinson's disease. This is what it looked like. Visit DanceShakeDonate.com for details #danceshakedonate