Flatiron Hot! Pundit: One Week Later: Reflecting on the Experience and Meaning of Millions March NYC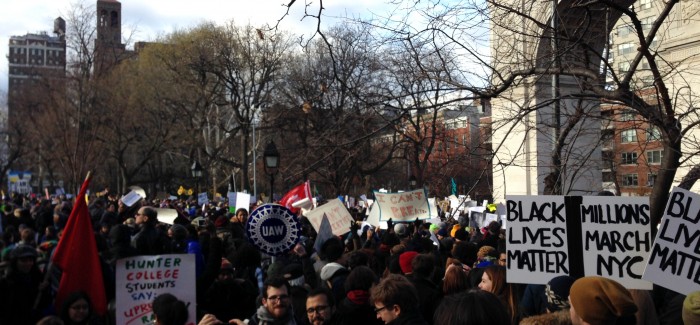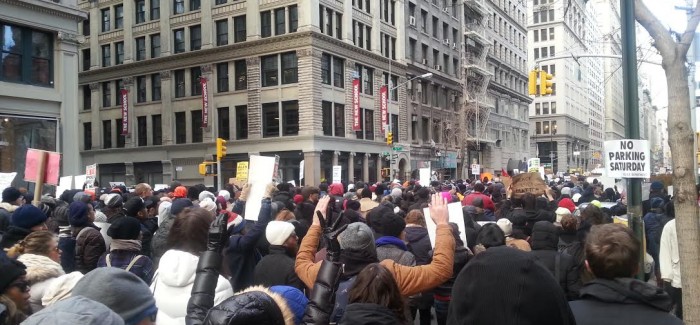 By Eric Shapiro Edited By The Flatiron Hot! News Editorial Staff
There's something to be said for waiting a few days to write about an experience so profound and emotionally overwhelming as participating in Millions March NYC. It needs time to settle, to digest, lest early impressions fail to do a historic moment justice. Yes, a historic moment. The response to the police slayings of Mike Brown, Eric Garner and injustices perpetrated on countless others lit a fire in America, burning down the walls of apathy and cynicism that discourage so many Americans from civic engagement. Whether or not they were among the 25,000 physically present at the march, all New Yorkers confronted the troubling reality of racism in our society, whether in conversation with friends who attended, in viewing a post on social media, or hearing the sounds of thousands of impassioned voices beating at their windows. Being at the epicenter of this phenomenon felt empowering in a time when it is easy to feel powerless. Millennials, who by my own unprofessional estimate made up the majority of the marchers, are often criticized for being the "me" generation. But there was no "me" in Millions March NYC and events like it across the country. The day throbbed with collective purpose. I can only imagine this is some smaller-scale, far less dangerous approximation of what it felt like to take part in the Civil Rights movement.
The march began at Washington Square Park at around 2:00 PM and "ended" at 1 Police Plaza, near City Hall. My friend and I departed from there, under the impression that the night had ended on a, frankly, anticlimactic note. During a bathroom break at a nearby fast food joint, we noticed a throng of protesters marching with a sense of purpose. We joined them to cross the Brooklyn Bridge. This, after most people had already left, was the highlight of the march. Some all-powerful being had turned the volume and intensity up to 11. I ran into Jeremy Copeland, my high school history teacher, a formative ideological influence whom I greatly respect and admire almost a decade later. I was not surprised to learn that he had incorporated the events of recent weeks into his curriculum. He had always given a sense of history as a living, pulsating thing, with current events as impossible to set aside as maps and primary sources. And where better to encounter such a teacher than at an event heralding the birth of a movement that will hopefully carve out a place, however humble, in future history books?
I know from my own experience and observing others that running into people, whether you knew them vaguely or intimately, currently or in the past, was incredibly powerful. The impact was so much greater than if you had simply run into someone on the street. You were there for the same reason, in support of the same cause. Something greater than coincidence brought you together. That something is at once more mundane and far more meaningful than any God or mystical force. It doesn't have a name, but you'd know it if you were there. More human beings were drawn into this unnameable thing as we walked to the Barclays Center. At times, protesters clogged the streets. I expected to hear many honks of annoyance, perhaps even a fight. After all, road rage is potent even in normal circumstances. Instead, honks of solidarity pierced the air, accompanied by cheering from those in and outside the vehicles.
As we worked our way through residential neighborhoods, families emerged, a few clad only in pajamas, to yell their support. Some even joined the protest, which by this point had split into three groups of approximately 1,000 each, if that. We occupied the large street in front of the Brooklyn Museum of Art as police descended on us from both sides. There was never a sense that things would turn violent. I was particularly impressed by one cop who did not react to a throng of protesters gathered around his car, chanting and making physical contact with the vehicle, which might have seemed threatening (context told me it was probably not). He exited his car at one point and calmly asked the protesters to step back; all of them obliged. It's sobering to realize that an instance like this could have ended in gunfire if a different officer had been present at the scene. That hypothetical cop would likely have gotten away with it, too. Multiple black males surrounding a police car, brushing up against it. I knew they were just being reckless in the heat of protest, never attacking the vehicle and dispersing without complaint when asked. But how would the situation have looked to our broken justice system?
We finally left the march at around 9:00 PM, after walking, jogging and running for over seven hours. I would gladly attend another and encourage others to do the same. Whether this is the start of a new movement or just a resounding flash in the pan, anyone who cares even remotely about racial justice in America owes it to themselves and to their country to play whatever part they can in a worthy cause.