A Bloated NBA All-Star Concert in New York City's Flatiron District Exposes Rift in Public Policy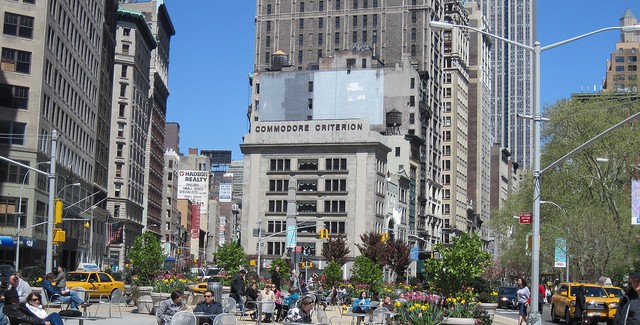 At first glance, an NBA All-Star Concert at the Flatiron North Plaza sounds like a good idea. What better way to publicize an exciting neighborhood than with a celebrity-laden extravaganza (superstar Rihanna has been tapped to perform) in celebration of basketball, a beloved national pastime? However, examine just what the event will entail and it's easy to see why some local businesses, residents, and community representatives have voiced strong objections: Extensive street closures. The removal of relied-upon amenities from the bustling Flatiron North Plaza. Five days of loud, around-the-clock construction. All for a 45-minute event.
One can certainly see why it's worth it for the NBA; it gets cheap access to space in a trendy NYC neighborhood. But is it worth it for those who call the Flatiron District home – parents who have to put their kids to bed over the sound of late-night construction, vendors located on closed-off streets, Citi Bike commuters left without a dock?
With these questions in mind, Community Board 5 sent a letter to Mayor Bill de Blasio, Speaker Mark-Viverito and Manhattan Borough President Gale Brewer blasting the NBA All-Star Concert as "inappropriate in terms of time, scale, duration, volume and impact for this dense commercial and residential area of our district." The event will have "an unacceptable impact on neighbors and businesses." The Community Board is making a concerted effort to get this issue in front of the public and the relevant decision makers.
Click here for the full letter.
Controversy over the NBA All-Star Concert underscores the potential areas of conflict and disagreement between community boards representing the neighborhoods, and the city agencies (in this case the Dept. of Transportation and SAPO) responsible for regulating the use of these newly created spaces, specifically pedestrian plazas, under the current set of rules. The Department of Transportation grants sole discretion regarding the use of public plazas to the Street Activity Permit Office (SAPA), effectively bypassing community boards that are ideally suited and equipped to look out for the best interests and priorities of their respective neighborhoods. Communities do not receive advance notice of upcoming events nor are they provided with a forum to make their voices heard. In effect, the institutions put in place to ensure that the use of public space remains reasonably democratic are cut out of the process, allowing unaccountable bureaucrats free reign to decide what's best for communities.
Click here for CB5's prescient 2013 letter to the Department of City Planning on the risks inherent in the city's pedestrian plaza policy.
The status quo is especially puzzling given the city's very different attitude towards public parks, in which events are subject to public review. If the city recognizes the need for public review in one domain, why not the other? Oversight is especially necessary given that pedestrian plazas, established by the Bloomberg administration to replicate the openness of European squares in the congested canyons of New York City, have become a major draw for businesses seeking promotional opportunities. A lack of oversight by SAPA has abetted an over-commercialization of the public plazas, epitomized by the upcoming NBA All-Star Concert.
As a solution, CB5 proposes "working groups" consisting of community boards, the Borough President, the DOTs and BIDs and City Council Members to assess future events:
"It is high time we work together to establish a uniform set of rules and procedures for the management of these public spaces, in order to restore and protect the public benefit for which they were originally designed, and put an end to out-of-scale commercial events in spaces that are far too small or otherwise inappropriate for them," writes the Board.
The concert has already generated skeptical and downright disapproving headlines from New York City publications. However, it will take more than the transitory attention of the media to change the underlying policies that leads to such events. Constituents will need to speak out and hope that their complaints matter more to the powers that be at City Hall than the commercial interests eager to turn our streets into their showroom.
Tod Shapiro, a member of Community Board 5 who owns a small business in the Flatiron District (full disclosure: that business is NYC Seminar & Conference Center, the sponsor of Flatiron Hot! News), spoke on the topic at last week's Community Board 5 meeting. "It's well established in the city that there are reasonable procedures for getting permits to use parks and open spaces. I'm in favor of small and appropriate scale events that take place in the plaza; they give a lot of flavor and a lot of life to the neighborhood. But this is outrageous. It's incumbent on all of us to get the word out and register in the strongest possible way our disapproval in a constructive way."
Whether such complaints are heard over the cheering crowd of fans and the enticing jingle of corporate profits remains to be seen.