NYC Mediterranean Restaurant Pergola to Host Enchanted Forest Spring Fling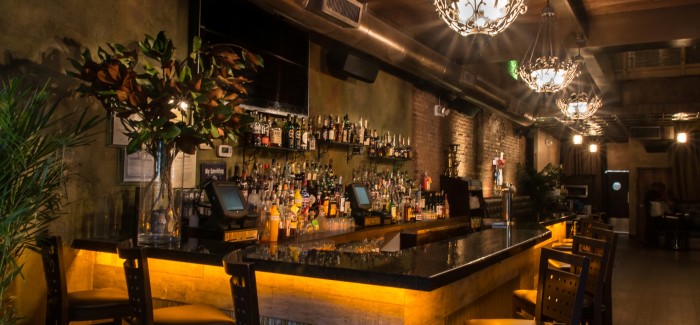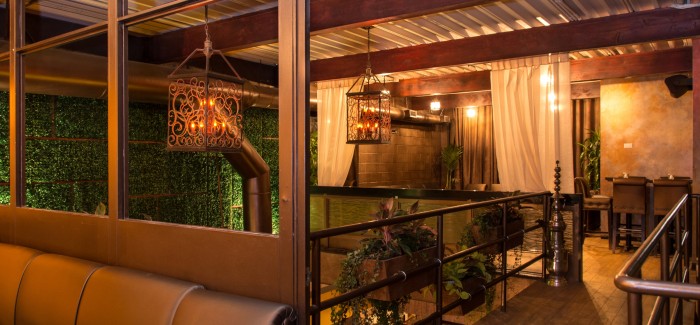 Spring has sprung and New York City restaurants are responding accordingly with new seasonal menus. Pergola, a restaurant, bar and lounge located in the Flatiron District at 36th West 28th Street that is known for its distinctive twist on Mediterranean cuisine, will showcase its spring and summer offerings at an enchanted forest-themed Spring Fling on Tuesday, April 21st from 6:30 to 8:30 PM. Residents of the Flatiron District, Chelsea and New York City as a whole are invited to attend, provided they RSVP to victoria@pergolanewyork.com.
All offerings included in the tasting are the creations of Executive Chef Nestor Moina, a veteran of several fine New York City restaurants. Aside from Chef Moina's culinary creations, attendees can enjoy complimentary cocktails, a rosè bar and a Spanish guitar duo that will perform throughout the festivities. In keeping with the event's enchanted forest them, colorful arrays of flowers will bloom throughout Pergola. This is appropriate, as Pergola's location once served as a flower shop.
RSVP to victoria@pergolanewyork.com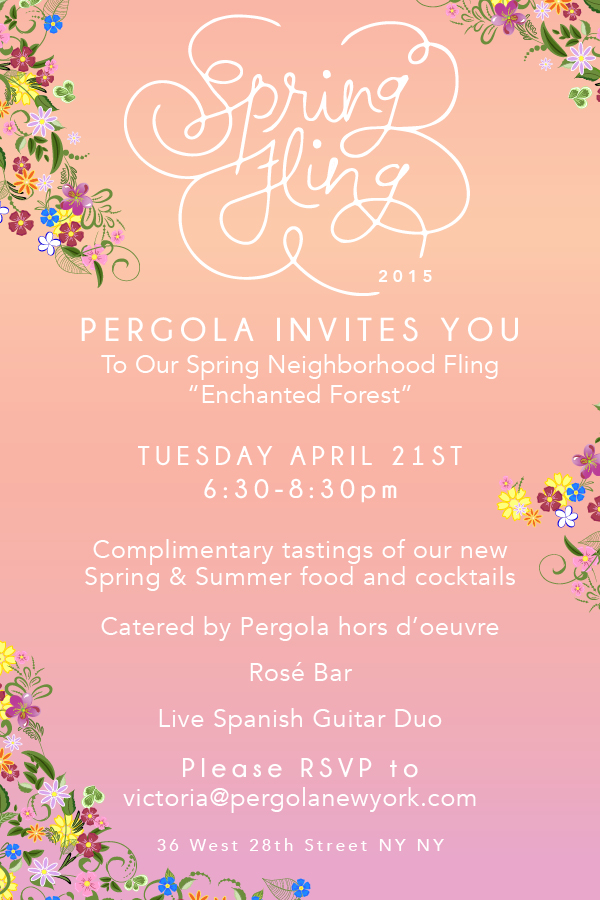 Executive Chef Nestor Moina's modern take on the classic Mediterranean cuisine (he deftly and seamlessly weaves Greek, Turkish and Middle Eastern influences into delicious dishes) is one of several factors that distinguishes Pergola in a city glutted with Middle Eastern and Mediterranean restaurants. Other key ingredients in Pergola's success include impeccable service, a bar consistently stocked with intriguing cocktails, excellent hookah, and an immersive atmosphere that is elegant, yet also laid back.
Pergola's unique layout – it contains multiple rooms, including lounges and a bar/dining area, spread across several floors – fosters a diversity of mood. Each room offers its own distinct feel (for instance, there is a Sun Room and a Shade Lounge), with the friendly staff, a consistently interesting selection of cocktails and of course, Chef Moina's singular menu tying everything together. But don't just take our word for it. Village Voice, Joonbug, NY Post and many other publications have praised Pergola since it opened early last year.
RSVP to victoria@pergolanewyork now and join residents of the Flatiron District, Chelsea and New York City as a whole in a celebration of spring and all the culinary delights it brings.
Appetizers, Entrees and Drinks at Pergola