New Carlos Quintana Paintings at the National Arts Club April 27th-May 30th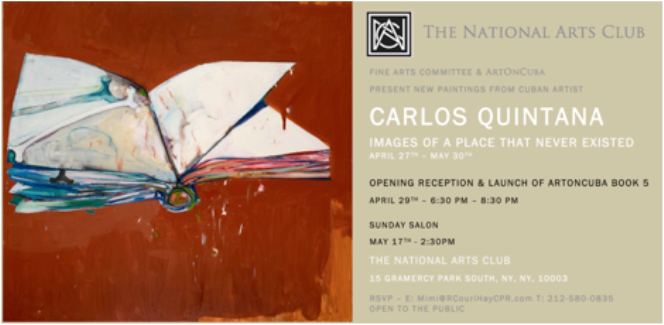 Posted by the Flatiron Hot! News Editorial Staff
Noted Cuban artist Carlos Quintana will be the subject of an exhibit at the National Arts Club titled "Images of a Place the Never Existed" from April 27th through May 30th, co-sponsored by the National Arts Club and "ArtonCuba", including three new paintings, among other items.   Of course, Cuba is in the news these days, with President Obama's attempts to restore diplomatic relations after decades of isolation and antagonism between U.S. and Cuba.   As the National Arts Club's Fine Arts Committee communicated to the public in advance of the exhibit to give some perspective:
"… Quintana's work combines the iconography of Cuba, the East and the West's contemporary and traditional styles, to create large format oil paintings, that present us with a dream like universe of vivid colors and rich textures from which powerful yet poetic figures emerge. Known for his irrepressible energy, Quintana's images are full of metaphoric and humorous gestures, often disturbing, but always seductive."
Carlos Quintana comments: "I understand art as a way of moderate and constant salvation, within the mystery that is life. True art, the one that endures, leaves permanent traces within each of us. Art, and painting in particular, is a daily savior for me; a physical exercise of the soul, of the senses, and of the body I inhabit."
There will be a lecture and appreciation of Cuba's art at the Sunday Salon at the National Arts Club on May 17th – so take it in, and consider attending to be informed about Cuba's burgeoning art scene, hidden from view these many years.
Here's what you need to know:
Location: The National Arts Club, 15 Gramercy Park South, NY, NY, 10003
Time: 11am – 5pm Monday through Sunday
Date: April 27th – May 30th, 2015
Website: http://www.nationalartsclub.org
Phone number: 212-475-3424
Ticket Costs: Free
Opening Reception: April 29th, 6:30 pm – 8:30 pm
Sunday Salon with Alex Rosenberg and Leslie Koot: May 17th , 2:30pm
Press Reception April 29th, 6:00 pm