Help Iconic NYC Independent Bookstore Revolution Books Get a New Home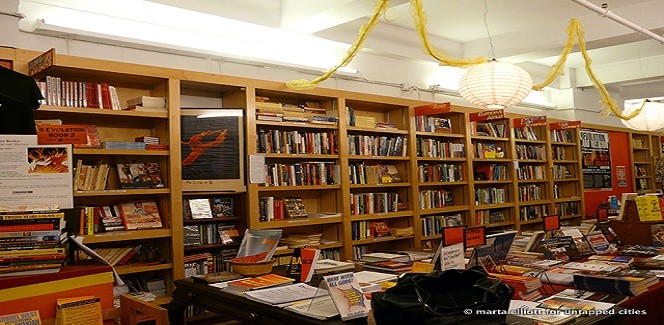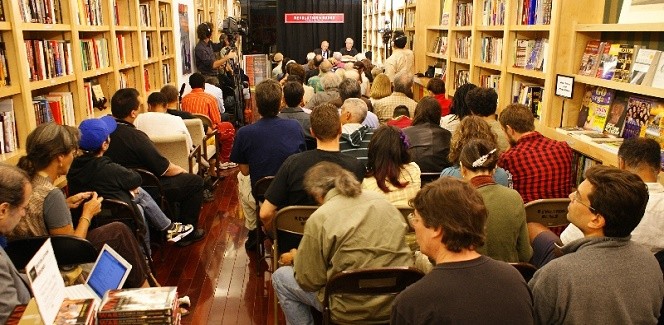 Revolution Books, a Chelsea and Flatiron District book store around since 1978, is losing its space at 146 W. 26th Street. It will hold a meeting on Thursday, May 7th at 7:00 PM to convene and raise funds for a new location. Revolution Books' plight is, unfortunately, part of a larger narrative. New Yorkers have known for years that independent bookstores are in trouble. We've heard it so much that the concept has lost some of its tragic weight. But the trend continues. New York City is losing its soul, and the closing of bookstores, many of them with deep roots and rich histories, is a telling symptom.
Revolution Books Hosts Lewis Lapham, Andy Zee Debate
We cannot let Revolution Books become the latest casualty. As its name implies, Revolution Books is a passionately ideological venture. Its owners are invested deeply in Bob Avakian's vision of Communism. But you don't have to be a Communist or a radical to appreciate Revolution Books. While a Tea Party conservative might not feel at home, anyone with the slightest liberal tendencies (as in: most New Yorkers) will find something to appreciate at Revolution Books. Its selections covers a wide range of topics including civil rights, feminism, income inequality the Israeli-Palestinian conflict and the prison industrial complex. The atmosphere is just as important; the store inspires palpable loyalty among its regulars, who treat each other almost like an extended family (their generous donations have helped keep the store in business for this long). However, they are extremely welcoming to newcomers and are eager to engage in conversation.
Revolution Books fulfills another important function: it brings prestigious authors and public intellectuals of the Left together for stimulating readings, speeches and debates. Participants have included Cornel West, Lewis Lapham, Carl Dix, Chris Hedges, Andy Zee, and Bob Avakian himself.
Revolution Books is more than just a bookstore. It is a community united behind common principles and a commitment to make the world better through radical change. But you don't need to agree with Revolution Books' ideology to support it. It's also simply a place to find great books, meet interesting people and hear some very smart folks read and speak. Offering support for Revolution Books in its time of need demonstrates a commitment to the survival of fiercely independent, idiosyncratic, community-oriented book stores in New York City. If nothing else, drop by for a visit, take a look at the books and have a chat with an employee. It won't take you long to realize that the place is special, whether you agree with its ideology or not.
We can't let the things that give New York City its soul die out and be replaced by endless banks, fast food chains and clothing stores. We can't let the convenience of ordering books online replace the intimacy and community of physical book stores. Revolution Books is worth saving for its own sake and as part of a broader struggle to prevent unrestrained capitalism from devouring New York City's identity, a danger that should be obvious whether you're a Communist or not.
See for yourself: stop by Revolution Books for its "Great Send-Off Weekend," which will include "performance, food thousands of used books, testimonials."