Flatiron BID Speaker Series to Feature NYPD Captain Brendan Timoney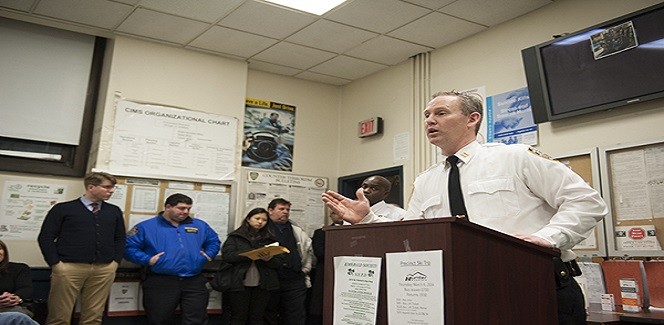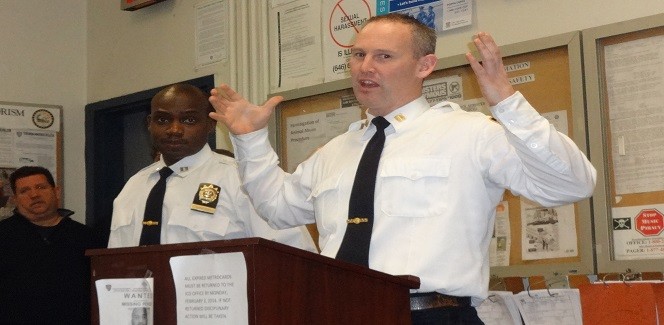 In the latest installment of the Flatiron/23rd Street Partnership's Speaker Series, Captain Brendan Timoney, Commanding Officer of the New York City Police Department's 13th Precinct will discuss law enforcement in the Flatiron District, Chelsea and Gramercy neighborhoods, with a focus on how the NYPD meets the safety and security needs of the community. The free event, to be held at 950 Broadway, will draw local businesses as well as residents and is an excellent networking opportunity. The event, originally scheduled for May 8th, has been postponed, as Timoney will be attending the funeral of recently-slain officer Brian Moore on that day. The Flatiron BID will announce a new date shortly.
Flatiron residents and business representatives may recall 13th District Commander David Ehrenberg's informative speech on a similar topic at last year's Flatiron Speaker event. It will be interesting to see how safety and security issues have evolved in the 13th Precinct since 2014, as well as what new law enforcement efforts are underway. Perhaps Captain Timoney will give us some idea, directly or indirectly, of how he plans to make his mark on the 13th Precinct and how he plans to approach the job.
RSVP for the event with EventBrite or call 212-741-2323
Some background on Captain Timoney, courtesy of the Flatiron BID
Captain Brendan Timoney started as the 13th Precinct's Commanding Officer on March 6th. He joined the NYPD in 1998, starting in patrol at the 52nd Precinct in the Bronx. Timoney, whose father and uncle are also in the NYPD, has since worked in other Bronx precincts, at the Midtown North Precinct as a Sergeant, and in a unit that addresses quality-of-life issues. In 2011, he was promoted to Captain and transferred to the 9th Precinct, where he served as Executive Officer until 2013. He then served as the Commanding Officer of the 1st Precinct until this March.
Follow the 13th Precinct on Twitter
About the Flatiron/23rd Street Partnership
The Flatiron/23rd Street Partnership Business Improvement District, formed in 2006, is a nonprofit organization whose mission is to enhance the area's reputation as one of New York's most vital and exciting neighborhoods. This is accomplished by maintaining a clean and safe environment for the district's businesses, residents and visitors; by spearheading area improvement projects; and by marketing the diverse business and retail options in this vibrant and historic neighborhood.