Flatiron Business NYCSCC Uses Duda Mobile to Build Cutting-Edge Mobile Site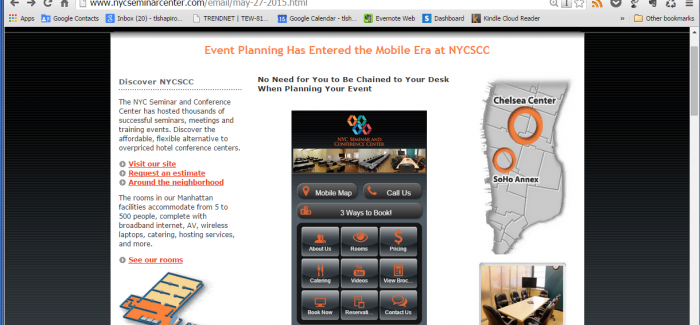 Reported by the Flatiron Hot! News Editorial Staff
NYC Seminar and Conference Center, Flatiron Hot! News' corporate sponsor, reports on their newly redesigned and updated mobile web site in their most recent press release sent out to their customers.
"We've entered the mobile era." You've probably heard that one before. And yet, even as we use our mobile devices to scratch all kinds of itches we didn't even know we had a few years ago, event planning has remained frustratingly behind the times. But not at NYCSCC. We know that you rely on your mobile hardware and phones to do more, and we see no reason why booking a room at a conference center should be an exception! The fast-paced nature of event planning can make it impractical to handle everything from your desktop. NYCSCC's new mobile site places cutting-edge event management technology in the palm of your hand, allowing you to enjoy the freedom and flexibility of planning your event on the go.
It's not hard to make a mobile site. But it's hard to get it right!
NYCSCC's mobile site, designed by an award-winning mobile developer with industry-leading mobile development platform DudaMobile, is the real deal. It has an intuitive interface, ensuring quick, easy access to information. No need to sift through unwieldy drop-down menus packed with unnecessary links. No need to worry about superfluous, oversized images that waste your time and crash your browser. Buttons are the name of the game. And if you know how to read, you'll know where each button will take you (hint: somewhere good!). Our mobile site is an extension of our guiding philosophy: simplicity and flexibility can go hand in hand. And sometimes they should.
Built for the Small Screen!
Although NYCSCC's mobile site has been optimized and slimmed down for the mobile platform's smaller-sized screens, it still has the same functionality as our classic desktop site. You can see our pricing, access hi-rez pictures and videos of all our spaces, schedule a site tour, reserve your space, order your catering, and book and pay on-line right from your mobile device. Need we mention the live news feed from our sponsored Flatiron Hot! News blog, with deals and news about what's happening after hours in our exciting neighborhood? And of course, you have access to the same "3 Ways to Book"approach as our full desktop site, employing industry-leading technology from Happy Desk, Form Site, and Tripleseat, including our excellent cloud-based, real time event planning portal that allows you to monitor your event logistics as they fall into place!
For details on our spaces and to arrange a site tour call us at 1-800-326-5494 or email us at salesteam@nycseminarcenter.com.
Check out our new mobile site and see just how easy it is. You can rest easy about your events – then you can go back to playing Angry Birds!