Go West, Young Man – Win a Free Trip to Anaheim if You Can Surf the Flatiron Beach – Today Until 2 PM!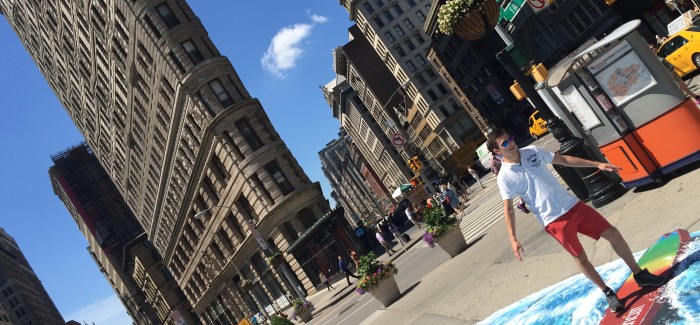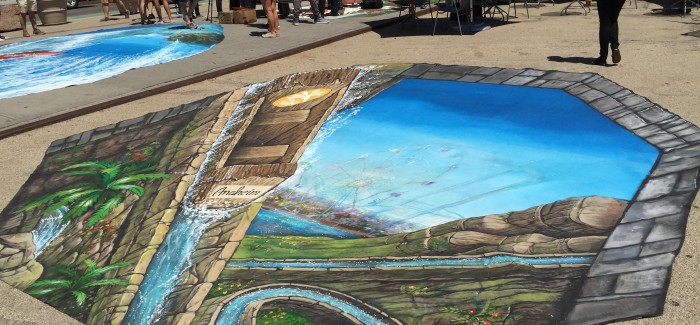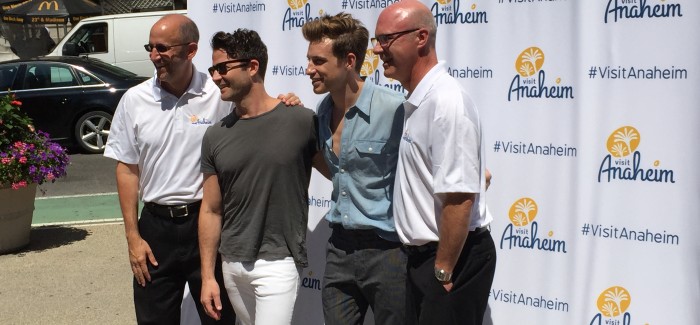 By Tod Shapiro and edited by the Flatiron Hot! News Editorial Staff
A sunny Wednesday morning's stroll to work via 23rd Street and Mad Square Park presented this reporter with the by-now expected "unexpected" PR and publicity media extravaganza of the ad
industry's love affair with our neighborhood and its favorite landmark. An eye-catching and colorful sight – a huge mural depicting a breaking wave, not on the seashore, but right in the Flatiron District's South Public Plaza, surrounded by crowds of tanned and buff California PR staffers!  Yes, it's that time of year again, and the PR and ad agency flacks are out in force pitching their clients' wares for Flatiron residents.  Hang ten on the simulated wave, get your picture taken, post to the hashtag #visitanaheim and you are eligible to win an all-expenses-paid vacation to Anaheim, California and all its great sights!  It's all part of the City of Anaheim's efforts to boost tourism – see their website www.visitanaheim.org to find out all about it.  The staff is there to assist all comers with their surfing efforts,  and take both pix and videos – lots of fun! Check it out by 2 PM today and see for yourself, or if you can't be there, check out Flatiron Hot! News' quick video clip of today's events – yes, that is yours truly on the Board in the red shirt!