Mad Square Music Rocks, Featuring The Stepkids – Cool Music for a Cool Summer Evening!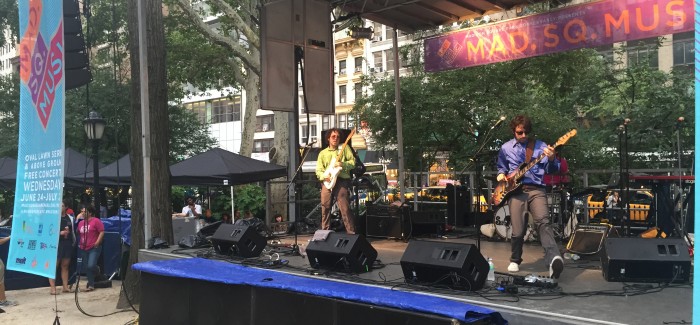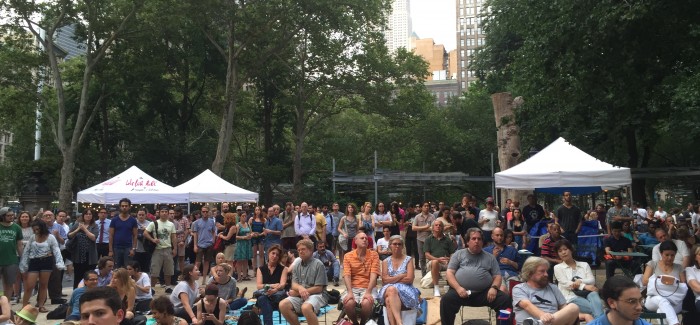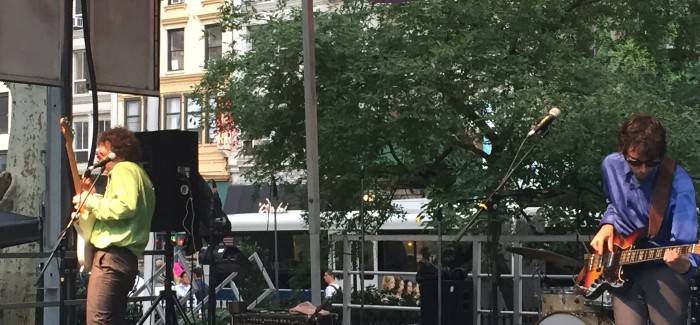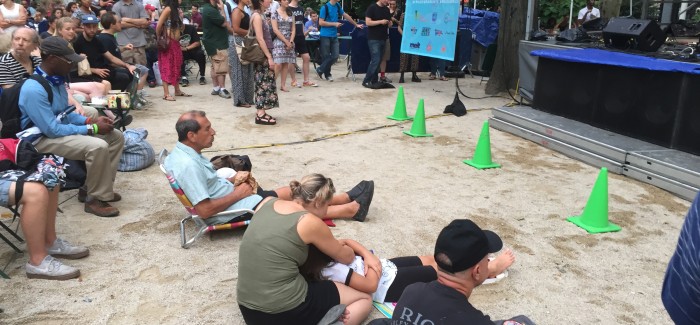 Reported by Tod Shapiro and the Flatiron Hot! News Editorial Staff
The excellent Madison Square Music series continued this past Wednesday at Madison Square Park's south end, with music lovers taking in another exciting band under the summer sky with the daylight giving way to dusk.  Guitarist and vocalist Jeff Gitelman, joined by co-vocalist and bassist Dan Edinberg and drummer Tim Walsh, aka "The Stepkids" (click here for background info) filled the park with their catchy brand of music featuring a creative mix of jazz, R&B, funk, 70s pop and others too numerous too mention – truly an eclectic mix!
Yours truly circled the south end of the park, which was filled with early evening concert goers, as well as park denizens out to enjoy the beautiful weather.  The sound quality and amplification was top-notch, as I alternated between catching a front-row view of the performers, and then circulated to the seating section of Shack Shack, and the park benches below the Fata Morgana exhibit.   The full-throated sounds carried well and blended in with the happy sounds of the park at dusk.  Kudos to Madison Square Park Conservancy for their efforts in bringing these events to us over the summer – the best part of the concert was watching the heterogeneous mix of New Yorkers  enjoying  the music and the park at the same time.  For those who want a quick taste of the night's heady mix of trees, music, and community spirit, here's a quick Flatiron Hot! video clip.