"Wet Hot American Summer" Camp Bus Makes Stop in Flatiron Plazas!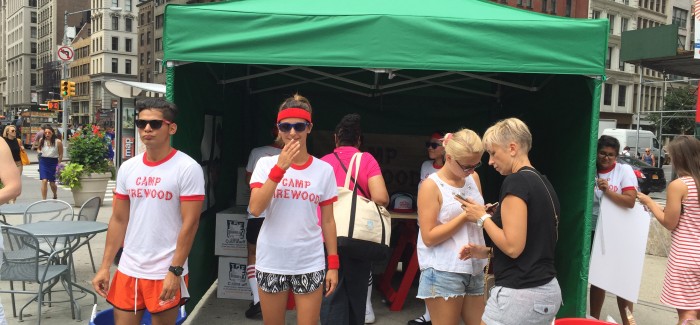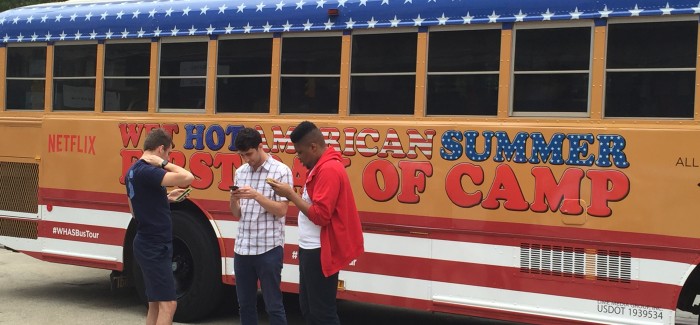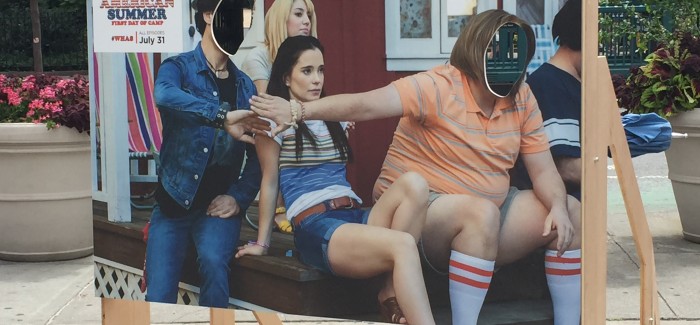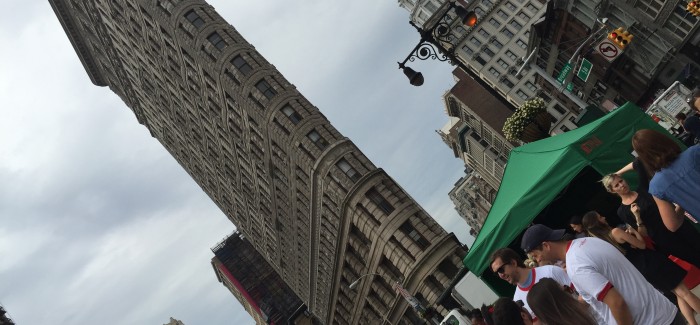 Reported by the Flatiron Hot! News Editorial Staff
Today, Netflix chose the Flatiron Public Plazas to make a splash for its new series, Wet Hot American Summer: First Day of Camp.  The series, scheduled for release at the end of July, is a prequel to the cult classic film Wet Hot American Summer, which comedy fans will recall told the tale of life at the archetypical northeastern kids summer camp and gave a kick-start to the careers of some of our most notable comedic actors and actresses, including Paul Rudd and Janeane Garofalo, among others.
To help kick off the 8-part exclusive Netflix series, the Flatiron Public Plazas features the camp bus itself, an appearance by producer and show creator David Wain, a camp tent, as well as pix and cardboard life-size cutouts of many of the cast members, available for some friendly photo opportunities.  Of course, there is also the obligatory social media hashtag contest (#WHASBusTour), with prizes and special deals for those who take a selfie and post with the bus in the background, and lots of Wet Hot American Summer paraphernalia, including some nice t-shirts and baseball caps.
Not to be missed – but if you did, check out this quick Flatiron Hot! Video Clip to see what it was all about.  Trivia question:  What real world summer camp was the location of the original Wet Hot American Summer flick?  Answer:  Camp Towanda, located in the nexus of sleepaway camps, near the town of Honesdale, PA.
Stay tuned to watch the first episode July 31st!