Webinar: "Creating a Successful Social Media Strategy"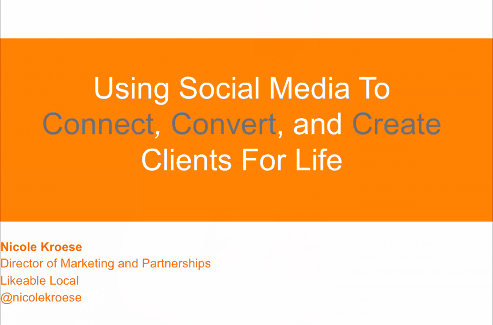 On

July 22, 2015

http://www.flatironhotnews.com
Reported by Ameena Makhdoomi and the Flatiron Hot! News Editorial Staff
A webinar hosted by Townsquared and Nicole Kroese of Likeable Local happened earlier today at 9 am PST/ 12 pm EST. The presentation included a ton of great advice, including solutions for keeping and gaining clients using social media. The webinar was an hour long and was hosted by Townsquared and Crystal Coleman using a Zoom application for the conference among audiences from coast to coast. Crystal introduced the speaker and presenter, Nicole Kroese, who works for Likeable Local. The company's goal is to help small and medium-sized businesses create, enhance, and manage their social media presence using their Likeable Hub.
The part of the webinar that most interested me was when Nicole spoke about the importance of connecting with your audience/customers. For example: listening and asking your audience their opinions about different products, approaches, advice, and any questions they may have will add to the trust and brand reliability of the company.
As part of the Eventbrite page, I completed the webinar with knowledge in:
Understanding why social media marketing is important for your business
Determining why customers follow you on social and how to get them to engage
Creating a strategic social strategy that fits into your schedule
Learning about social advertising and social customer service
Throughout the presentation, there was a contest via Twitter for participants to tweet live and whomever had the most tweets would win a prize of two books that have more information about the importance of using social media for marketing.
Townsquared is also hosting a few other webinar events:
Better Business: Actionable SEO Wins that Grow Your Business
Welcome Walkthrough

August 13, 2015 8am PST (every second Thursday)

Better Business: Get the Cheese – Qualifying and Applying for Government and Corporate Programs
To register: sign up at http://blog.townsqd.com/events
Overall, this was a great presentation and I was able to gain some knowledge on a very important part of the rapidly changing marketing industry.