Newly Renovated 2nd Floor Conference Hall at NYCSCC Strikes the Perfect Balance Between Aesthetic Appeal and High-Tech Functionality!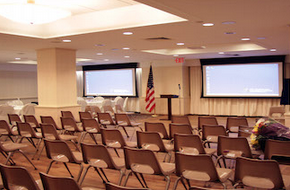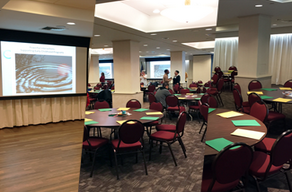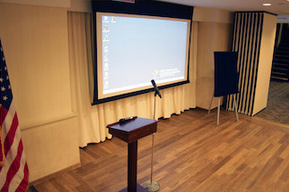 On

August 4, 2015

http://www.flatironhotnews.com
After extensive refurbishing, the 2nd Floor Conference Hall at 71 West 23rd Street once again offers a wide range of clients an ideal location for events of all kinds at a value price.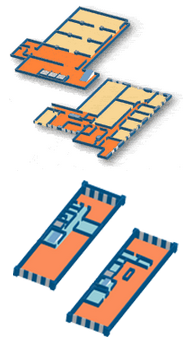 At NYCSCC, the room you get is the room you need! The refreshed, remodeled 2nd floor facility (4,500 square feet) is ideal for groups of up to 330 attendees. It can support a variety of setups including, but not limited to, banquet, theater and workgroup style. It also includes a movable air wall for short-notice break-outs, and of course, you can combine this excellent facility with NYCSCC's 14,000 square feet of conference space readily accessible on other floors at 71 West 23rd Street.
Even in a neighborhood packed with eye-turning attractions, the historic building that is home to NYCSCC and the always-popular 2nd Floor Conference Hall makes an immediate impression with its high ceilings and stunning architecture.
The 2nd Floor Conference Hall is the epitome of flexibility, especially with its new upgrades. Highlights include new carpets and wall furnishings, floor-recessed power and data outlets, a retrofitted audio system for music, a tech room with controls and inputs for AV equipment including three 1080p, 5,000 lumen ceiling-mounted projectors positioned to display optimally to retractable ceiling screens. Did we mention the new state-of-the-art wireless and three-zone PA system, to say nothing of the improved catering facilities featuring new sinks, microwaves, ovens, and stoves?
No venue should leave its client's event to sink or swim. At NYCSCC,
we ensure yours stays afloat.
At NYCSCC, we don't just rent you a room and leave you to muddle through the logistics all on your own. We recognize that planning an event at one location is hard enough work without having to coordinate with outside vendors and tech support staff that, all too often, are focused on their area of expertise without any concern for or understanding of your event as a whole. This can be especially problematic at the kinds of large-scale events held in rooms like the 2nd Floor Conference Hall. Our dedicated staff is here to help from the moment you call us up to inquire about our space to the triumphant conclusion of your event.
At NYCSCC, we make sure that in a room filled with hundreds of people, we are able to accommodate and help make your event successful in every way possible. We are proud to offer comprehensive tech and A/V support as well as a diverse and delicious catering menu served by our courteous staff. When you rent the 2nd Floor Conference Hall, you're not just renting a room; you're renting an experience. And it is our mission to make sure that experience is as smooth and memorable as possible from start to finish. When it comes to small events, there's room for improvisation. When it comes to large events in the 2nd Floor Conference Hall, you can't leave anything to chance. Collaborate with us and you won't have to.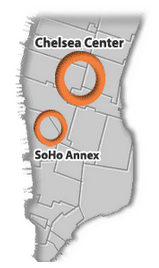 Add to this NYCSCC's unbeatable location at 71 West 23rd Street, in the heart of New York City's fashionable Flatiron and Chelsea Districts, which provides easy access to multiple subway lines as well as close proximity to Penn Station and Grand Central Terminal. Better yet, it means a neighborhood packed with fun things to do after your meeting including bars, restaurants, movie theaters, comedy shows and, of course, the gorgeous Madison Square Park, right across from the iconic Flatiron Building, which will serve to put the exclamation point on your business events.
Affordable rates, flexible configurations, a dedicated staff of hospitality professionals in a great locaton – this is why NYCSCC's clients keep coming back to NYCSCC and its Value Technology Center concept.
The 2nd Floor Conference Hall is available during the day Monday through Friday from approximately 8:00 AM to 5:00 PM.
For details on our spaces and to arrange a site tour call us at 1-800-326-5494 or email us at salesteam@nycseminarcenter.com. You can also check out our new Youtube Video here!