Sanpellegrino's "Pop-Up" Orchard in Flatiron Public Plazas – Free Fruit Drinks & Bocci Tuesday & Wednesday!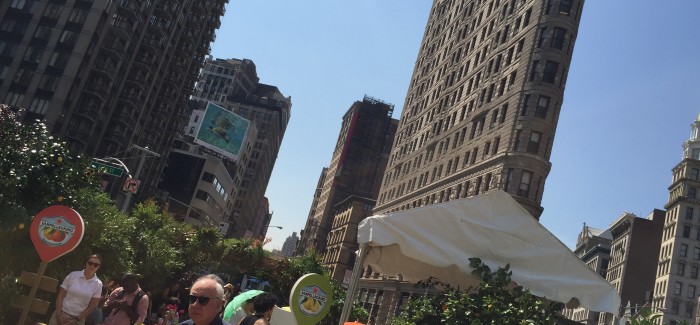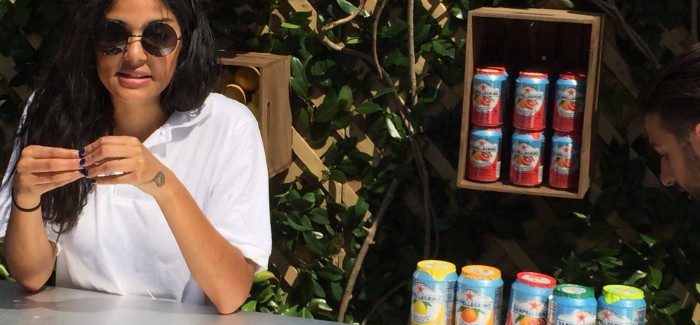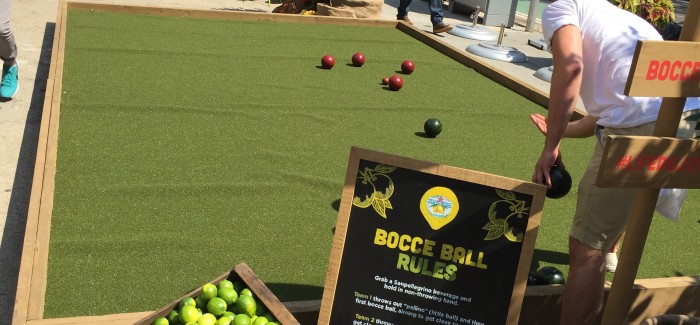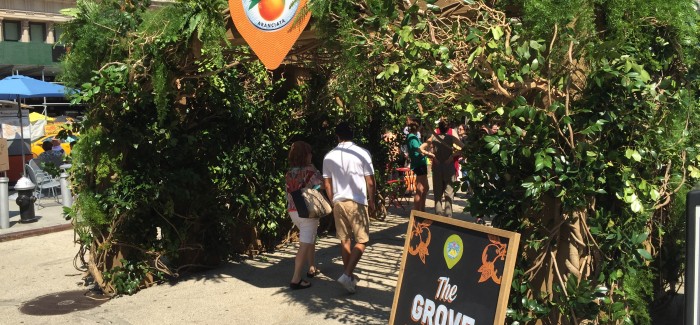 Reported by the Flatiron Hot! News Staff
This week's "can you top this" promotional extravaganza, right in our own Flatiron Public Plazas for all to enjoy, is brought to you by Sanpellegrino of Italy and their tasty and fruity carbonated drinks. Their latest Sanpellegrino Campaign ("Life Deliziosa") features the Sanpellegrino Sparkling Fruit Beverages.  On Tuesday and Wednesday of this week, Flatiron area denizens can partake of the well-known Sanpellegrino beverages (flavors include orange, lemon, lime,  and grapefruit) at a "pop-up" citrus orchard and grove that appeared  on Tuesday morning – no doubt to evoke the sunny Italian coastal climate that gives the product its name.
On a hot weekday stroll to work, the free cans of Sanpellegrino were being given out one to a customer and were quite welcome, alongside baskets of real oranges, lemons, and limes.  It sure made for a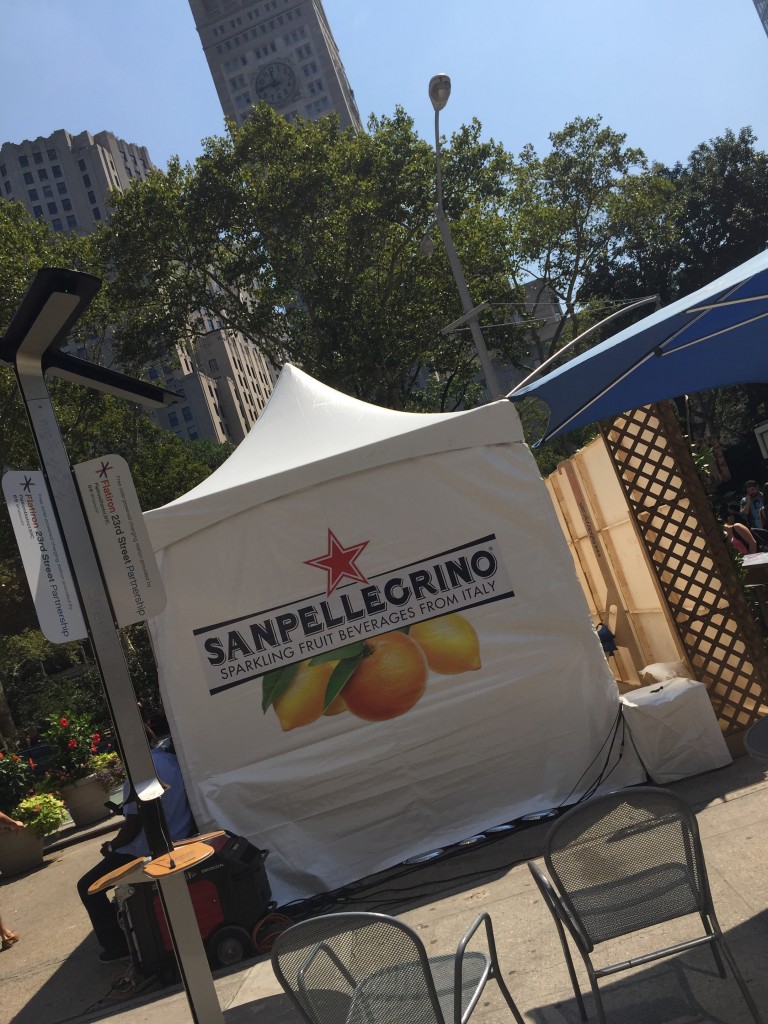 refreshing break before you hit your desk at work!  To drive home the point of the zesty fruity flavors, the people at Sanpellegrino had tables, faux-citrus trees, and plenty of signage plugging their products to catch a passerby's attention on the way to work – but the highlight by far was a full-sized "bocci" court, complete with what appeared to be orange, lemon, and lime-themed bocci balls! Yes, this will take its place as one of the more memorable transformation of our beloved Flatiron Public Plazas – alongside the tennis court, basketball court, and who knows how many other off-beat vistas that have appeared on a moment's notice in front of Mad Square Park and the Flatiron Building.
I understand after speaking with some of the staff that Tuesday evening will feature a potpourri of VIPs from 5 to 7 PM to learn from some top mixologists and bartenders how to mix exotic and tasty cocktails with your favorite Sanpellegrino – so make sure you get there at some point today or tomorrow and get your free drink, and experience the sight of a citrus grove right in the middle of the Flatiron District!  Of course, if you can't make it, check out this quick Flatiron Hot! News Video: